Tillamook Coast Life Blog
Scoring Big in the Kitchen: Awtrey B&B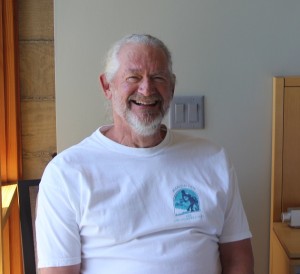 In the 12 seasons Dennis Awtrey played professional basketball, he was known as a physical player, a tough guy once described as one of the "enforcers." And that still holds true today – at least in the kitchen. It seems being an innkeeper is not so different from playing basketball.
"I elbow people when they get out of line," Dennis jokes. Then, warming to the subject, "In the morning, the breakfast has got to be good. It's like getting ready for a game – all about the timing. It's got to come out and be flawless. My wife Peggy is a little bit more conservative. She'll say, 'Let's get this ready.' I tell her, 'Not yet. Hot things got to be hot, cold things got to be cold. You have to bring it out at the last second.'"
His basketball career saw him play first with the Philadelphia 76ers, then the Chicago Bulls, Phoenix Suns, Boston Celtics, Seattle SuperSonics, and Portland Trail Blazers. Now Dennis and Peggy operate The Awtrey House Bed and Breakfast, a James Cutler-designed work of architecture perched above Neahkahnie Beach in Manzanita. They came to the business of innkeeping first as guests.
"When we went to the countryside in Europe, we went to bed and breakfasts," says Dennis. Everyone is happy at a bed and breakfast. As an owner, that is perfect because no one comes in grumpy. It's a great way to learn about where you are, to meet other people. It enriches your life."
Likewise, a stay at the Awtrey House will no doubt enrich your diet.
"One thing around here, you can get crab, salmon, mussels, everything," Dennis says. "You can really make it local. I go to Garibaldi and pick up some fish, put it in with the egg, add some cream cheese … I've got a lot of pride. I want people to like it when they get it there."
Book your stay at the cozy Awtrey House