Tillamook Coast Life Blog
Tillamook Estuaries Partnership helps water-rich, Oregon coast county
Anglers display their catches in the 2013 Bounty on the Bay fundraiser, an event held in May each year to support the continuing efforts of the Tillamook Estuaries Partnership. Photo courtesy of Tillamook Estuaries Partnership.
Nature-blessed Tillamook County offers many resources for water-based recreation. Preserving that blessing for present and future generations is the job of the Tillamook Estuaries Partnership.
TEP, with its offices overlooking the docks in the fishing hub of Garibaldi, is a nonprofit that began as the Tillamook Bay National Estuary Project in 1994. It is funded by grants plus private donations, and it works with dozens of partner agencies and devoted volunteers to carry out its mission, which executive director Lisa Phipps described in an interview: "We are committed and dedicated to our estuaries and our watersheds through habitat restoration and on-the-ground efforts resulting in appreciable difference to habitat, water quality, an increased sense of stewardship, and certainly education as it relates to both preschoolers and 99-year-olds."
TEP's work — all done in conjunction with its partners — includes habitat enhancement and restoration, invasive species removal, water quality monitoring and other efforts toward a healthy environment in the county's watersheds and five estuaries. And while visitors who enjoy fishing, crabbing and clamming might not be aware of the benefit they're getting from TEP, those who come to enjoy paddle sports are increasingly familiar with TEP's Tillamook County Water Trail guidebooks, which you can order free online.
The guidebooks cover both flatwater and whitewater and are printed on waterproof plastic paper. They offer a wealth of information for canoeists, kayakers, stand-up paddleboard enthusiasts and users of other recreational boats.
"Non-motorized boating is quickly passing motorized boating in Oregon," said TEP water trails coordinator Julie Chick, who serves on advisory panels for Oregon State Parks and the Oregon State Marine Board. She speaks for the interests of users of small non-motorized craft, since they aren't registered and therefore don't financially support the marine board.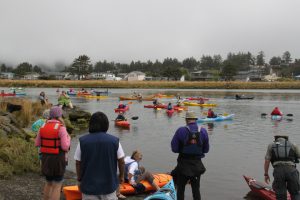 As paddle sports grow in Tillamook County, the guidebooks can help local property owners and watercourse users get along, said TEP accounting manager Claudine Rehn. Residents have concerns about boaters abusing private property, disrupting salmon habitat and disturbing birds, she said, and some fear that recreational boaters could overrun the area the way windsurfers have overwhelmed Hood River.
"What a wonderful opportunity we have here to educate people on proper etiquette, proper use," Rehn said. She said that the maps help prevent trespassing and steer boaters away from sensitive habitats — which environmentally minded boaters want to do in any case.
The Bounty on the Bay fishing tournament each May draws many visitors and is TEP's main fundraiser. "You can fish one of two ways," Phipps said. "You can go out and be your own captain on your own boat, or you can use one of our guides who donate everything to us that day."
Visitors also can take part in TEP's summertime Education Through Recreation events, which have included clamming paddles, oyster tours and hatchery visits. They are listed on the TEP website's events calendar as they are scheduled, as are bay cleanups that take visitors to sites that are normally not seen.
Tillamook County's estuaries face environmental challenges, but all can be fixed, said Phipps. "What's here are things that we can still change ourselves," she said. "Pretty special."
By Scott Gilbert