Tillamook Coast Life Blog
DIY Yoga Retreat on the Oregon Coast
Dreaming about a relaxing yoga retreat on the Oregon Coast, but don't want to pay for one of those expensive professional retreats?  Why not do it yourself? Here are 10 easy tips to creating your own yoga retreat on the Tillamook Coast.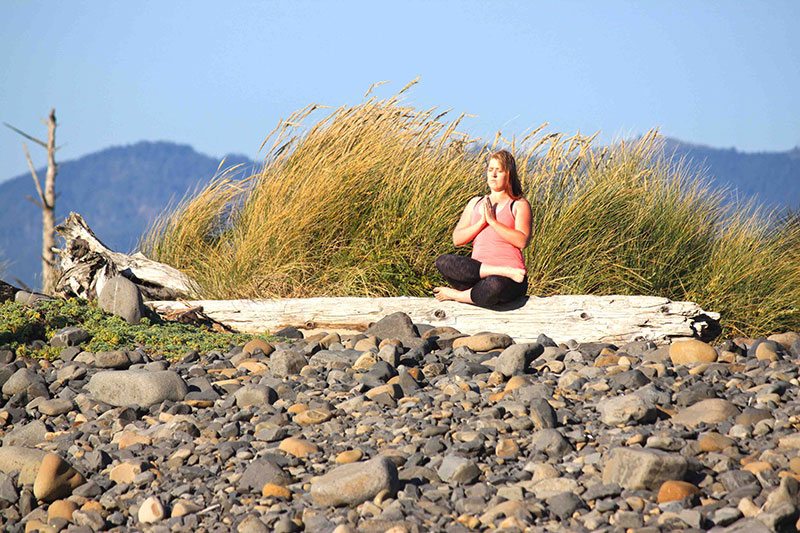 Find your perfect yoga studio
The key to a successful yoga retreat lies within the art of yoga itself. You want to find instructors and a studio that you connect with, both mentally and spiritually.  Yoga Roots Studio in the heart of Manzanita is warm, inviting and as close to the ocean as any studio could be. You'll be able to pamper your mind and body both inside the studio and the moment you step out the door and feel the ocean breeze. Yoga Roots Studio offers classes in the morning and the evening.
Pick a place to stay
In Manzanita there is no shortage of lodges, cabins and motels offering luxurious yet peaceful accommodations that help create an effortless flow from studio to hotel. Many are within walking distance, allowing you to keep your muscles moving and your mind invigorated between sessions. Some nearby choices include the Inn at Manzanita, Ocean Inn and the Spindrift Inn.

Do basic yoga moves on the sand
Pack properly
On the more obvious side, you'll want to bring your own mat and comfortable yoga clothes. Remember though, the Oregon Coast can be unpredictable so it's best to have a few options with you. Bring a light windbreaker and a rain jacket just in case of rain or mist.
Replenish your body
A yoga retreat is about cleansing your mind and soul, but also your body. In order to rid yourself of toxins you need to replenish it with healthy nutrients and foods. Fortunately, Manzanita has a wide variety of cafes, bakeries and restaurants that offer vegetarian, vegan, organic and non-GMO options. You're on a retreat, so you need to treat your body as well. Bread and Ocean Bakery on Laneda Avenue offers pastries, soups and sandwiches made only with organic grains and flours, free-range eggs, and love. They even have fresh-baked, gluten free bread options, and organic vegetables.
Make time for yourself
Yoga Roots Studio offers up to two classes each day. This leaves you time for at least one solo session on the beach. Mornings and right before sunset are a perfect time to dig your toes in the sand and meditate while the sky paints an ever changing canvas of bright colors for you. The Manzanita Beach can be crowded though, so finding a secluded spot can take patience. Bring your yoga mat and go for a walk up the beach until you feel the noise of the city scurry away on the breeze and all you're left with is the call of the ocean.

Yoga on the banks of the Nehalem River
Read a book
The idea here is to bring a book that you wouldn't normally read in your day-to-day life. You want to stretch your brain and challenge it to learn something new. Pick a book that inspires a new hobby; a biography about a stranger; or a political author whose views are different than yours. If you didn't pack your own book, Cloud and Leaf bookstore at 148 Laneda Ave is open every day until 5 p.m.
Write in a journal
It's a good idea during times of self reflection to do some "yoga journaling." Right after a session is the perfect time to break out your journal. Write down all the ways you are proud of yourself and what you've accomplished. Jot down areas you want to improve, both physically and mentally. Let your mind open up through your pen. Then put the journal away and give yourself several hours before you read it. Do go back and read it though, as it will expose new ways to focus your next yoga session and meditation.
Meet new people
You might find your yoga class is filled with other yoga retreaters, vacationers, or locals. Introduce yourself. Go out to lunch with a fellow yogi, or invite them on your beach yoga session. It's important we learn from other people as well as our inner being.
Go for a walk about town
Manzanita has a lot to offer besides just the beach. Go for a walk and pick something new to do. Be open to new ideas and embrace change. If you're not a talkative person, strike up a conversation with a stranger. If you're the chatty type, try staying quiet and just observe your surroundings. Interact with your environment. Breathe in the coastal air and breathe out the negative.
Embrace the change
The purpose of any yoga retreat it to grow –spiritually, mentally, and physically. Only you know the change you are capable of, so pay attention to the subtle queues that your body and mind are sending you that change is happening. Invite them in and recognize how they make you feel. Journal about these slight shifts in the abnormal. Take it with you when you leave.