Tillamook Coast Life Blog
Your hosts on the Coast
For anyone who has spent time visiting the parks of the Tillamook Coast, you soon realize you don't want to leave. There is too much beauty, activity and relaxation to enjoy in one visit.
A select few have chosen to stay and make these parks their home away from home. They are camp hosts and they have dedicated themselves to sharing their passion for these beautiful places with others.
Dick and Carolyn Colbert of Rockaway Beach were looking for something unique to do with their retirement. While many of their peers were fleeing to southern climates, they wanted to get out and explore the Oregon Coast.
After talking to friends who had hosted at area parks, they decided to give it a try.
"We always loved to camp," Carolyn said. "We wanted to help enhance the visitor's experience of Oregon."
They hitched up their cozy trailer and headed north to Nehalem Bay State Park. Nestled on a beautiful sandy spit it offers activities such as horseback riding and fishing.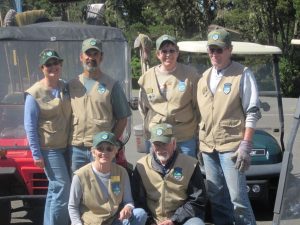 As hosts, the Colberts enjoyed being available to visitors from their camp site and found themselves meeting and befriending people from across the United States and around the world, including other hosts.
They participated in helping park rangers organize nature talks, history presentations, and pot-luck dinners.
"Even when there was nothing going on, we were never bored," Carolyn said.
The Colberts spent nearly a decade hosting – at Nehalem Bay and along the Oregon Coast – before Dick passed away in 2014.
Their trailer became a second beach home and the Colberts found that camping didn't mean "roughing it." Their trailer was often decorated with bright flags, wind chimes and other touches of home.
"I enjoyed putting out flowers," Carolyn said. "We even had a DVD player in the trailer. If I never had to get mail, I would never have gone home."
Park Ranger Geoff Baertlein, coordinator of the camp host program at Nehalem Bay State Park, said camp hosts provide a number of invaluable services: greeting campers, answering questions, preparing firewood, cleaning up litter.
"The hosts are very important to Nehalem Bay State Park and the Park System," he said. "We wouldn't be able to function without them: our parks wouldn't look as nice."
Baertlein adds that for everyone involved – Park Rangers, hosts, and campers – its often a lasting familial relationship.
"I'm really proud of the program and the hosts. I've made some great friends over the years and we've managed to get a ton of work done," he said. "I'm always happy to bring new folks into the program."
For hosting information at Nehalem Bay State Park, contact Park Ranger Geoff Baertlein at  503-801-4675 or geoff.baertlein@oregon.gov.