Longboard Surfing in Cape Kiwanda
The Longboard Surfing Classic in Pacific City's Cape Kiwanda is a popular water sporting event held at the end of every summer. Over 150 athletes from around the region compete in 20-minute heats for two consecutive days. Competitors practice all year for this highly anticipated event.
The event kicks off with a bonfire, local cuisine and delicious ales
Whether you're competing or just on board to watch and spend a fun weekend at the beach, this competition is a lot of fun. Things kick off with a pre-event party on a warm September Friday night with dinner and a bonfire on the beach featuring local cuisine. This prequel is further enhanced with live music and delicious themed ales provided by Pelican Brewery.
Get your head in the game
Sign up to complete ahead of time; registration opens in May or June for the September event. Contestants are judged on three main criteria: size and quality of wave selection, length of ride and the maneuvers and tricks they complete. The competition starts at 8 am on both Saturday and Sunday and goes through the late afternoon each day. Awards are given out at the end of the event, on Sunday evening.
Relax at the beer garden and listen to live music
After a full day of surfing, the participants are ready to relax at the beer garden and listen to live music.  In recent years, Pelican has been sponsoring a fabulous Brewfest at the event! Saturday afternoon, find a bevy of Oregon-based breweries serving up their finest pints. From Cannon Beach's Public Coast Brewing to Eugene's Ninkasi Brewing Company to Astoria's Fort George Brewery, the Brewfest showcases all kinds of delicious Northwest craft beers.
There's no shortage of fun things to do while you're here. Competitors and spectators can enjoy two full days of music, drinks and tasty food. Shop around at the vendor display or bid in the silent auction. Bring a blanket and take a nap on the beach while you watch the surfers catch waves.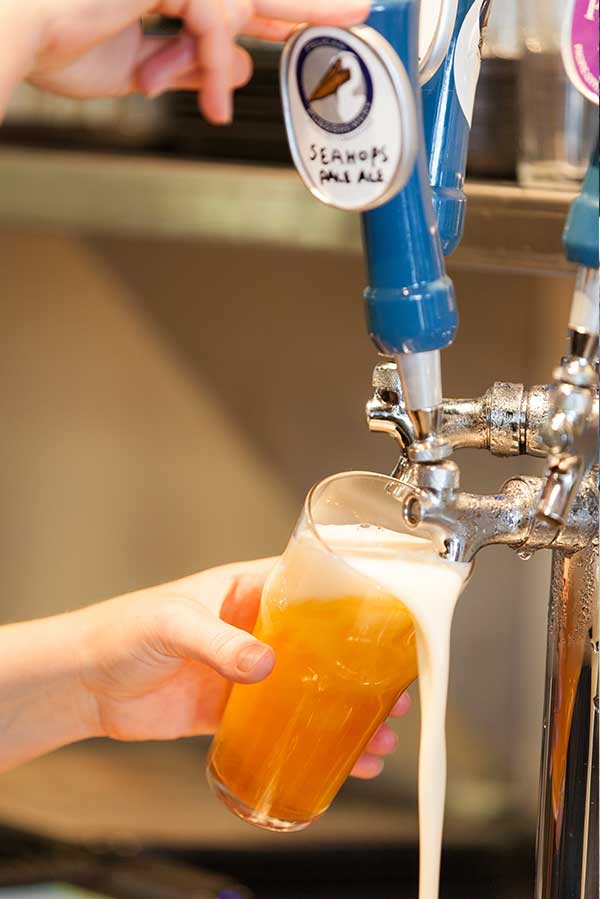 Brought to you by…
Join national and local businesses in sponsoring the competition. Big companies such as Quiksilver and Billabong as well as spots closer to home, such as The Inn at Cape Kiwanda and Twist Wine Company, have contributed to the event in past years. Not only does the event foster a sense of community on the Oregon Coast, it also helps local causes. In 2018, proceeds from the Longboard Classic are going to the Pacific City Skatepark.
You can easily plan a whole weekend of fun
Use the Classic as your jumping-off point for a few days of adventure in the area! Take a break from the festivities and head over to nearby Cape Kiwanda State Natural Area for an awesome hike to ocean views and great whale-watching opportunities. Or, trek down to the Nestucca Bay Wildlife Refuge, just south of Pacific City, to see Wood Ducks, ospreys and Brown Pelicans that take up residence there in summer.
Whether you enjoy longboard surfing, or want to learn more about this exciting sport as you explore the shore, coast on over to Tillamook County's premier longboard surfing event for the thrill of a lifetime.