About the Tillamook County Quilt Trail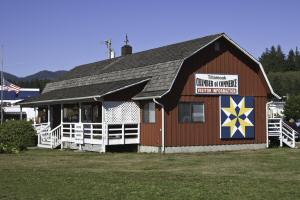 The Tillamook County Quilt Trail Coalition – with representatives from the Tillamook Farm Bureau and Dairy Women, Tillamook City Council, Tillamook Area Chamber of Commerce, Tillamook County Historical Society, and 4-H Leaders – partnered with Latimer Quilt & Textile Center in 2009 to establish a quilt trail. The goal: to create a tie between our rich local history and the wonderful talents of local quilters. with the added benefit of encouraging tourists to spend a little more time in our community.
Tillamook County Quilt Coalition
Originally known as the Tillamook County Quilt Coalition, it formally launched out on its own in January 2011 as its own 501c3 non-profit organization. In 2018 the Quilt Trail's non-profit board members reached out to Visit Tillamook Coast and requested they manage and provide marketing for the Tillamook County Quilt Trail. Latimer Quilt & Textile Center hosts the first mural by the Tillamook County Quilt Trail, painted in September of 2013 and was instrumental in helping launch the Quilt Trail in 2009.
Origins
The Quilt Trail concept, originating in Ohio, is very popular in the East, as there are approximately 3,000 quilt blocks mounted on barns and businesses. The nearest to Tillamook was in Nebraska when we began. With the help of many, we were able to obtain grants to get started and by Tillamook County Fair time in August 2009, thirteen 8 x 8 foot wooden blocks were displayed along a self-guided auto route with a brochure available for the trail. With an initial run of 5,000 brochures and increased interest in the trail, we have since published an additional 100,000.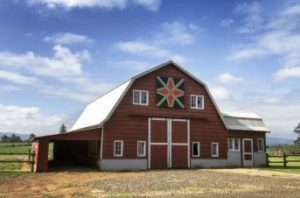 The trail, the first of its kind on the West Coast, generated interest from as far away as North Carolina and is listed in the books Barn Quilts and the American Quilt Trail, by Suzi Parron and Donna Sue Groves, and Barn Block Traditions: Exploring the American Quilt Trail with 55 Blocks and 20 Quilts, by Jane Wickell.
In 2010, the Quilt Trail extended into Tillamook and an additional thirty blocks were mounted on buildings of interested citizens and businesses within the city. This, along with the original trail, had the happy result of drawing tourists to the area specifically to see the quilt blocks.
The quilt trail idea was originally voiced by Marti Rhea, and has become a reality through a coalition of local citizens.
Contributors
This project is supported in part by a grant from the Oregon Arts Commission and the National Endowment for the Arts, a federal agency.
Thank you to the following contributors who have supported us through donations of time and money, discounts and in-kind services: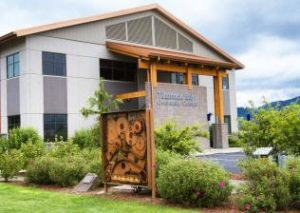 Grants: Economic Development Council (EDCC), Tillamook PUD Community, Arts Building Communities (State of Oregon), TRT (Tillamook County), City of Tillamook, Tillamook County Cultural Coalition, Tillamook Urban Renewal Agency, Tillamook Revitalization Agency, Collins Foundation, Spirit Mountain Community Fund (Confederated Tribes of Grand Ronde), Fairview Acres Dairy (Obrist), Hampton Lumber, J Norris Powerwashing, Latimer Quilt & Textile Center, Photoart by Marti, LLC, Rosenberg's, Zweifel Custom Farming, Tillamook Air Museum, Tillamook County Historical Society, Tillamook High School FFA (Max Sherman) Geometry Class (Mrs. Sherman), 4-H Fiber Arts Club, Boy Scout Troop 582 Eagle Scout Project of building blocks by Zach Crist, 2012, Eagle Scout Project [Documentation of TCQT Project for Repairs & Maintenance] by Deacon Fladstol, 2016 and Tillamook Chamber of Commerce for distributing our brochures.
Individuals: Engineering Process Steve Fladstol, those who have contributed along the way: Carol Marie Leuthold, Betty Rolston, Linda Machuta, Elliana Fladstol, Cara Carr, Priscilla Brown, Niki Pistachio, Anna Moeller, Mary Williams, Gail Desjarlais, Terra Wilcoxson and Caitlin Heusser.
Geocaching the Quilt Trail: Dan Russell THE TEAM: those who helped establish and continue to develop the Tillamook County Quilt Trail, Coalition Members: Suzanne Weber, Faye Jacques, Diane Colcord, Andy Neal and Teri Fladstol. Tom Weber and Al Jacques for the building of blocks, overseeing installation, and mounting of over 100 blocks. And lastly, all those who have participated in buying a Quilt Block and making our communities the better for it.
In Memoriam: Faye Jacques, 2015 and Tom Weber, 2016