Kilchis Point Reserve Interpretive Trails
Grab your walking shoes and your sense of adventure when you head out to hike the Kilchis Point Reserve Interpretive Trails. Consisting of 200 pristine acres located adjacent to Tillamook Bay, Kilchis Point is owned, protected and maintained by the Tillamook County Pioneer Museum.
Home to a Wide Variety of Native Plants and Animals
Tucked away off the beaten path, Kilchis Point proves you don't have to go far to immerse yourself in the natural world and leave the bustle of busy city streets behind. The trails are home to a wide variety of native plants and animals that create a precious ecosystem.
Three Separate Interpretive Trails
Three separate interpretive trails highlight different aspects of the area: floral and fauna; Native American heritage; and early pioneer settlement. This rich cultural history is well documented with interpretive and educational trail signs along each trail. The paved trail loop makes for an easy stride during a warm summer evening.
Towering Trees and Lush Foliage
Each trail is approximately two miles long, winding underneath towering trees and through lush foliage. Be sure to wear sturdy shoes because, although the trails are mostly flat, uneven ground, tree roots and puddles can make the walk challenging. You can cross Doty Creek at the south end of the property, which is home to several species of whistling birds.
Home of the First Pioneer
Kilchis Point marked the largest Native American village on the north Oregon Coast, whose presence can still be felt in the area, and it is also the site of the home of the first pioneer, Joe Champion, who arrived in 1851 and lived in a tree stump while he built his cabin. Kilchis Point was also home to the first ship built in Tillamook County, the Morning Star. It was the first ship formally registered in the Oregon territory.
What's in Store for the Future
Enjoy an interpretive kiosk, benches, and an arbor and native gardens installed at the trailhead. In the future a bird watching station, pioneer exhibit building and Native American longhouse will be added to enhance visitor understanding of the diverse history of this area.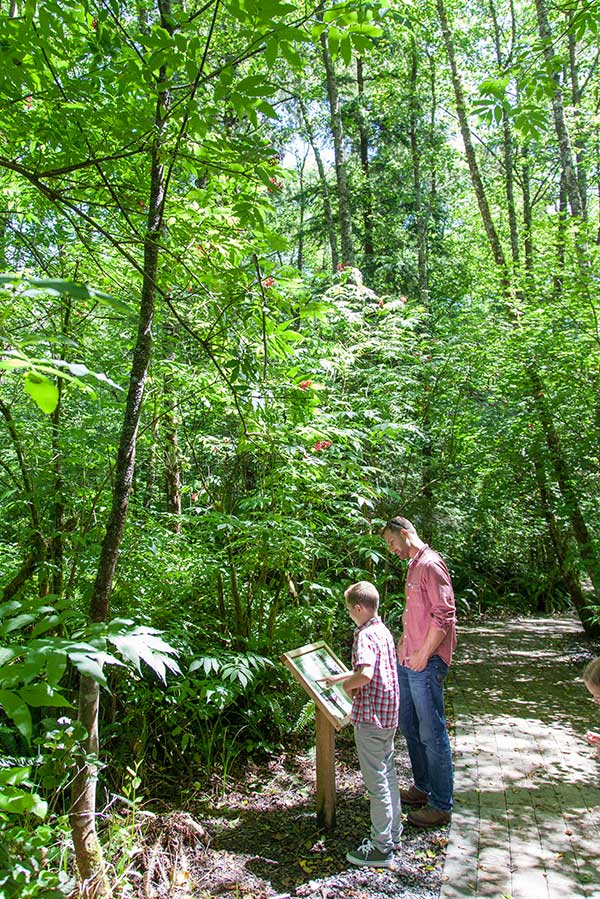 Visit Kilchis Point Reserve