Tillamook Coast Life Blog
Dahlia Festival at Old House Dahlias
The 'September Morn' dahlia, blooming at Old House Dahlias, glows golden from the base of the petals, and like sunrise the intense fuchsia color at the center radiates out to the blushing petal tips.
At Old House Dahlias you'll find an incredible diversity of flowers in their 200 variety collection. Walk the display garden to find lacey prisms on the pompom dahlias, starbursts of rolled and pointed petals on the cactus types, a puff of ruffled petals on the anemone types, other variations from the orchid, stellar, waterlily, and peony types, all the way to the bold stripes on a single petaled dahlia. All blooming in sizes from miniature ball to dinner plate, in a spectacular display of colors, a few even have midnight-purple colored foliage.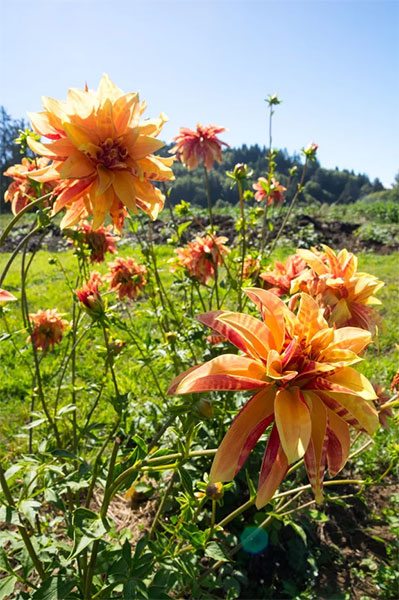 Mark Harvey started growing dahlias 10 years ago in his backyard in Portland. Just this past January he moved his farm to Tillamook where cooler temperatures and less intense sun make the dahlia blooms more richly colored. Mark uses natural methods to farm and sums up his philosophy with, "You can use pesticides on dahlias, but I would personally rather see a bug on my flower vase than have chemicals radiating a hole in my dining room table."
Old House Dahlias sells cut flowers and tubers from their dahlias, and they also do weddings and special events. Mark is available to lead garden walks and answer questions weekly until the first frost on Saturday and Sunday from 10 am to 5pm at 11600 Hwy 101, just south of Tillamook. Or stop by for pre-cut flowers from the self-serve cooler daily by from daybreak to dusk.
The annual Dahlia Fest is held at Old House Dahlias the first two weekends in September. For more information, call 503-771-1199 or visit www.oldhousedahlias.com