Tillamook Coast Life Blog
Made by Nature; Blessed by Luck(y)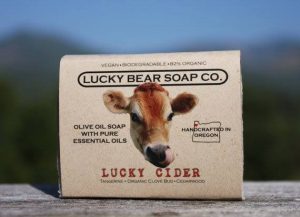 There is no escaping the fact that this success story begins in a dark place, in a ditch by the roadside in 2009 where a baby bull lay dying. And yet, if not for that bull, if not for Skyler Veek's compassion, the Lucky Bear Soap Co. would likely not exist.
Skyler has always been drawn to outdoor scents, the rich aromas of the clover, lavender and eucalyptus of her childhood. No surprise, then, that as a young woman she found herself drawn to the study of essential oils, herbs and plants, a natural complement to her passion for art and design.
And that's where the rescue story comes in. Skyler took the baby bull home and nursed it back to health, christening it Lucky Bear. But as she soon discovered, raising a bull is no cheap endeavor. There was a barn and fencing to build, and food alone cost $300 a month. So Skyler learned soap making, designed a label, and the Lucky Bear Soap Co. was born.
Today, she stocks over 100 products in her downtown Tillamook store on 2nd Street. No synthetic preservatives, petroleum, parabens, silicones, fragrance oils or plastics here. And no animal testing, either.  Skyler frequently holds classes at the shop, including soap making, which is perfect for parties and mother-daughter activities.
In 2013, Lucky Bear Soap Manly Mint Organic Beard Oil placed in the top 10 in a beard oil contest in Spain. She's twice been named a Martha Stewart American-made awards nominee, and her Etsy shop has had visitors from 82 countries. Yet, Skyler remains largely a one-woman show – "ordering, making, designing, cutting, wrapping, shipping" – all on her own.
The secret to her success?
"First," says Skyler, "I think it is important to start with the highest quality organic ingredients. But also, people love the story. They can relate to rescuing an animal. Lucky's a blessing for sure."
Lucky Bear Soap Company is at 1907 2nd St, Tillamook, OR 97141. (503) 812-3595.  The etsy store is at www.etsy.com/shop/LuckyBearSoap. Follow Skyler on Facebook for a list of classes at www.facebook.com/LuckyBearSoap.