Tillamook Coast Life Blog
Moon River Farm: Eat the Rainbow
This post was originally published in July, 2017 and updated in July, 2018.
Little golden-orange fruit inside a thin papery husk. Ever had anything like that? Well, those are ground cherries found at Moon River Farm.
Lily Strauss and Kayleigh Hillert started Moon River Farm in Nehalem just this year. They turned an acre of pasture into an acre of delicious vegetables with the celebratory slogan: "Eat the Rainbow!"
And back to those cherries: "Think Hawaiian pizza: they're meaty, but sweet," said Lily.
"They're great for snacking: cute and yummy," added Kayleigh.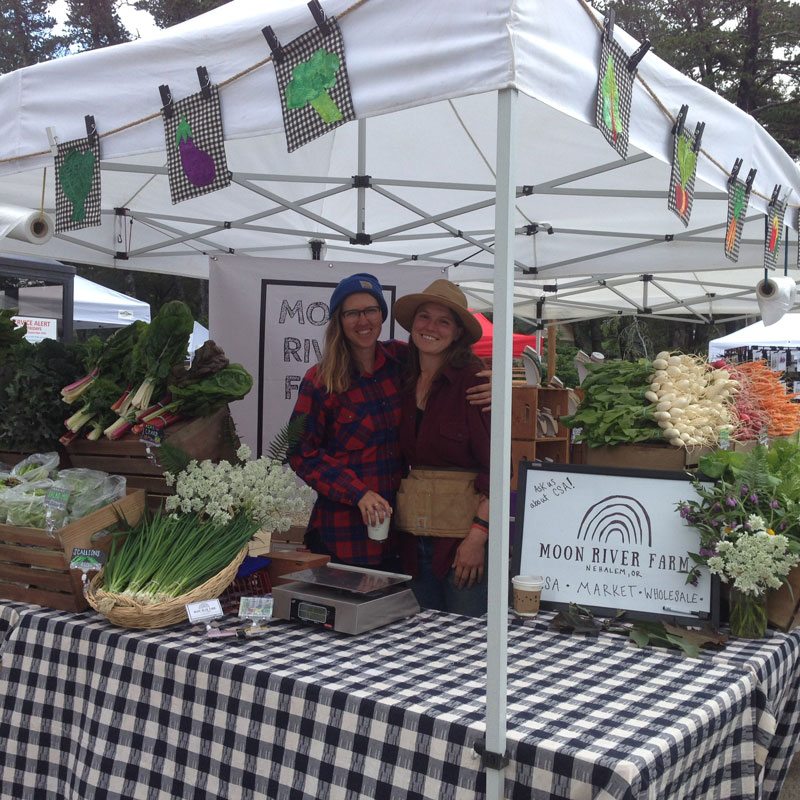 "WWOOF" to a good start
Lily and Kayleigh have been farming together for 5 years, starting just down the road at REvolution Gardens. It was there that they spent 6 weeks as WWOOF'ers in 2012.
Worldwide Opportunities on Organic Farms (or Willing Workers on Organic Farms) is an international organization that facilitates homestays on farms around the globe. WWOOF is meant to promote an educational exchange, and build a global, ecologically minded community.
Moon River was inspired by the values and practices these two young farmers learned during their tenure as WWOOF'ers; they run their farm with organic practices, built on a keen awareness of how farming can affect the whole ecosystem. Lily and Kayleigh are committed to growing great food without the use of pesticides, herbicides or fungicides. They employ methods such as cover cropping, composting, interplanting and integrated pest management to make sure they are not disrupting the living systems surrounding their land.
Founding a farm
Though neither of Moon River's founders is originally from Oregon (Lily grew up in California and began her farming adventure in New Zealand before coming back stateside to work at R-Evolution; Kayleigh worked on a small Tennessee farm with her family through high school,  and attended college in Colorado before embarking on her WWOOF journey in Oregon), they have built a home for themselves here on the Coast.
To start their own farm, they found land at Meadow Harvest, a grass-fed beef and lamb operation. There, Lily and Kayleigh share a connection to farming and community with guests of Meadow Harvest's on-farm Airbnb.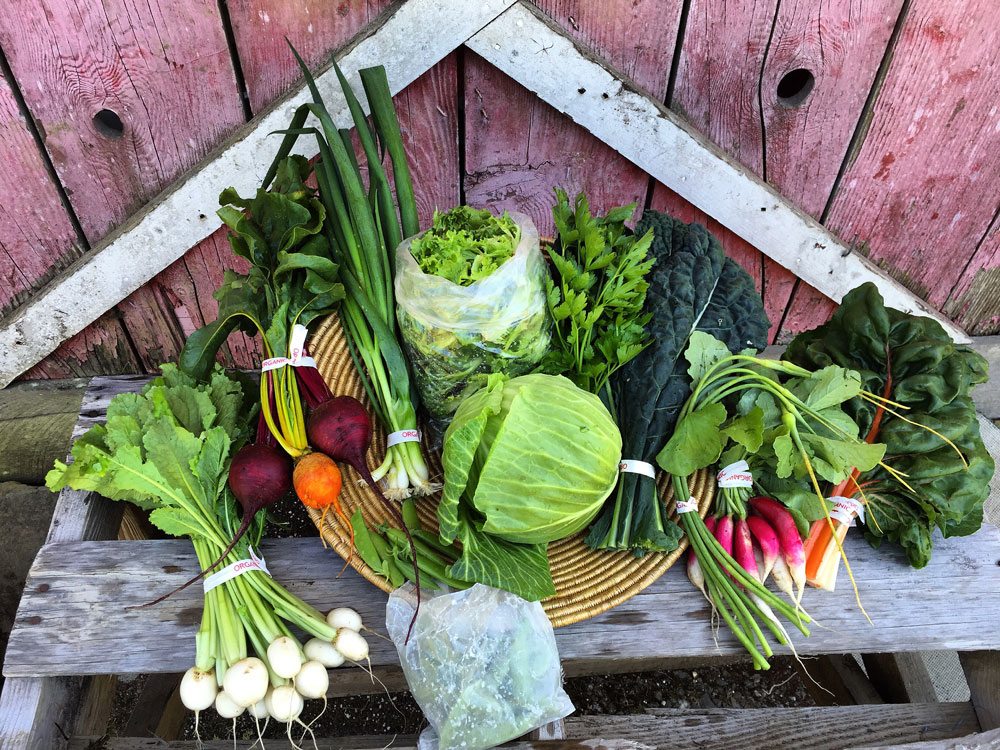 Find produce from Moon River Farm at the Manzanita Farmers Market.
Get a taste of the farm
Moon River has its own Community Supported Agriculture—a relationship between the community and the farm. Members subscribe for a whole season, from May to October, of weekly "shares," boxes of fresh, seasonal produce delivered each week. It's a great way to get a sampling of different vegetables and support a local farm in the process.
The farm offers flexibility, with drop-off locations in Tillamook, Rockaway, Wheeler, Nehalem, Manzanita, Cannon Beach and Seaside, every Tuesday. You can also customize things like the size of the box—choose a half or full share, depending on how many people you're feeding—and scheduling—skip a week if you're out of town, or pick up directly from the farm on a different day, if the Tuesday drop-off is inconvenient. Best of all, the produce you get will be different each week, encouraging you to eat more vegetables and try new things. From bok choy and beets in the spring, to cauliflower and radishes in the summer, to winter squash and fennel in the fall, you'll be eating a wide variety of nutritious, fresh food.
But the CSA isn't your only option. You can also find Lily and Kayleigh at the Manzanita Farmers Market from 5-8pm every Friday. To hear about what's in season, get recipes, and more, sign up for their newsletter on their website, or check out their Facebook page. You can contact them by phone at (303) 807-9889 or email MoonRiverFarmers@gmail.com.