Tillamook Coast Life Blog
Quietude and nature at Wheeler on the Bay Lodge
When a mishap on a client's stairs sidelined Martha Taylor's business of rebuilding vintage pianos, she knew it was time to find a new passion.
But what?
Old pianos had been her life for more than three decades, but she was burnt out: the physical labor of the job was too much.
"My husband and I were going, 'Where are we going to go, what are we doing to do?' 'We're not dead yet.' I thought, 'I can entertain people.' I decided to look for a hotel."
And at 3 o'clock one morning, while searching a popular website for commercial real estate, she found it — Wheeler on the Bay Lodge.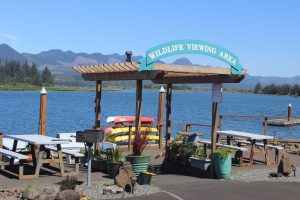 "I saw Wheeler," Martha said. "I said, 'Yes, yes, Wheeler.' We had stayed there many times in the past and loved it."
They became the new owners on April 1, 2017, and after 20 years in Portland, made the move to the Oregon Coast.
The lodge is a work in progress, but guests don't seem to mind. Last summer, they enjoyed a 97-percent occupancy and were named number one on the 100 Best Fan Favorite Destinations in Oregon.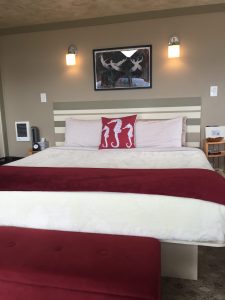 Four of the rooms feature views of the Nehalem Bay. A light breakfast and snacks are free, as are the DVDs in the lodge's extensive DVD library. Stay two nights, and you can also borrow kayak at no charge.
"Each morning, I wake up and look out the window," Martha said. "The world is so safe and beautiful. I am looking at elk on the island right now. It's so fun to see the rhythm of things. On a sunny afternoon, the otters are going to be hanging on the docks. The Great Blue Herons hang out on the docks to get their breakfast and dinner from the thousands of little minnows that hang out below. People come for the quietude and the nature. We're a comfortable place."