Tillamook Coast Life Blog
There's nothing like a slug to inspire Oregon Coast writers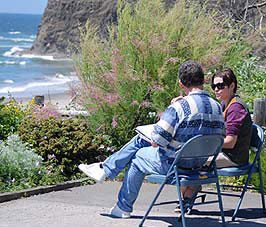 This article was originally published in March, 2016 and updated in August, 2018.
When David Greenberg published his first children's book, "Slugs," he had no idea this iconic Oregon gastropod would lead to his favorite endeavor—the annual Oregon Coast Children's Book Writers Workshop. Since 2004, the OCCBW has annually welcomed aspiring writers from all over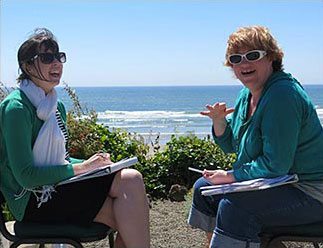 the planet to the water's edge, to learn from pros who make their living doing what they love—writing, editing and publishing books that capture the imagination of the next generations.
The faculty flies in from such places as New York City to the tiny, but stunning town of Oceanside to lecture on all aspects of the craft and offer participants invaluable, daily one-on-one sessions to hone work in progress.  Many who have attended the OCCBW call it a "booster rocket for people wanting to get published," and a lucky few even have their manuscripts purchased on the spot.
This is known for being a fairly intense course; after all, it takes sweat, guts and often tears to craft a book! Participants should have a serious goal of publication, the website advises. The schedule is busy: six hours a day of class, plus lectures and presentations. At the same time, writers of all levels are encouraged and welcomed to apply. OCCBW doesn't discriminate, and the workshop is designed to help you improve as a writer, no matter your starting point. And, students have access to the author/instructors for manuscript review, consults and additional editing.
Beware, many who attend (the student return rate is 20-25%) fall in love with the Tillamook Coast. One story goes that an attendee ended up buying the B&B where she and her husband were staying for the week!
Participants are encouraged to eat at local establishments, such as Roseanna's Cafe (specializing in fresh seafood and decadent desserts), and take long walks on the rocky beach for inspiration. Nearby Lake Meares and Cape Lookout State Park give writers even more options for scenic outdoor writing or head-clearing breaks spent hiking, kayaking or swimming. With such a beautiful backdrop, it's no wonder the writers fall in love with the Coast.
David Greenberg himself is a transplant to the Northwest by way of Brooklyn (where he was born). He moved to Portland for college, and that's where he lives today. His oeuvre consists mainly of children's books written in rhyming poetry—Slugs is just one example of his fun style, other works include Snakes!, Bugs! and Skunks!. He's an award-winning writer and has been in the business for several decades. He brings his extensive experience to OCCBW, as do fellow course instructors, who are authors, editors and agents with backgrounds in children's books. Networking with these talented and well-connected folks is a big perk for participants.
As if the favorable student/faculty ratio (about 1:7), small-town charm and easy access to beach walks is not enough, David also throws in evening wine tastings by some of Oregon's finest vintners and a farewell dinner a la chef David (he loves to cook).  Just one thing to keep in mind, the annual workshop is held in July—unlikely that any slugs will be lurking about for a cameo.