Tillamook Coast Life Blog
Tillamook Coast History
Have you learned about the treasure allegedly buried on Neahkahnie Mountain? Or have you heard the story of the first pilgrim who built his house inside a tree stump? What about the town built along Bayocean Spit that fell into the ocean? You'll learn about these stories and many more during a trip to the Tillamook County Pioneer Museum.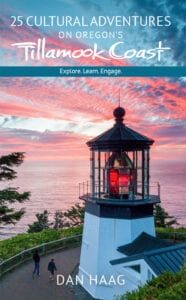 After you stop by the Museum, go out and see the living history yourself. Textile arts are not only preserved, but created on a daily basis at the Latimer Quilt & Textile Center. Gaze out at the same bay Captain Robert Gray sailed from the door of the Garibaldi Museum. Imagine soaring about the coast onboard a World War II blimp at the Tillamook Air Museum. Get your copy of 25 Cultural Adventures on the Tillamook Coast.
Quilts have been part of Tillamook County since the early pioneers arrived. As you drive the country and coastal roads of the Tillamook Coast, look for large, colorful wooden quilt blocks on barns and buildings – there are 104 of them! Pick up a Quilt Trail map at the visitor center!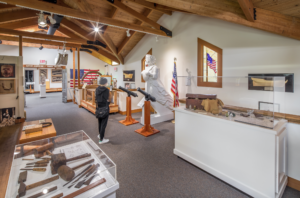 Located in the fishing village of Garibaldi, this museum is a treasure of local maritime history, told through the adventures of Captain Robert Gray and his sailing ship, the Columbia Rediviva, which sailed to the Pacific Northwest in search of the Columbia River.
Call ahead to schedule a bed turning. You'll be treated to a short history of each of 10 to 12 quilts and discover how long it took the creator to craft all the intricate stitches. Latimer is a working museum, where friends teach others the art of textiles.
The Tillamook Forest Center is a shining jewel on the Tillamook Coast. An engaging interpretive center tells the story of the historic Tillamook Burn and reforestation. Don't miss the powerful film, Legacy of Fire, shown in the center's surround-sound theater.
Firehouse Museum
The Tillamook Firehouse Museum, in memory of Assistant Fire Chief Michael Ellerbrook, houses memorabilia that features the history of the Tillamook Fire Department. Located at E&E Auto Center in Tillamook, admission is free of charge and open Monday-Friday.
Tillamook County Pioneer Museum
In downtown Tillamook, three floors showcase Native American artifacts, a 1911 stage coach, the natural history of local animals and birds, logging displays and much more. The 35,000 plus objects on display all point to the area's rich cultural history.
Housed in the largest, freestanding wooden structure in North America, this former blimp hangar now showcases a collection of vintage aircraft, WWII memorabilia, first hand documentations, uniforms and amazing photography.
International Police Museum
The International Police Museum in Rockaway Beach helps tell the real story of police officers.
The museum has many displays with historic and modern items from around the world including uniforms, restraints, badges, weapons and other tools. Admission is free.