Tillamook Coast Life Blog
Tillamook Coast Derby Dames bring hard hits to the coast
What do you get when you mix a handful of newbie skaters, half a dozen bruises, and cleverly scary nicknames like Carnage a Trois?
Tillamook Coast's new roller derby team, that's what.
If you didn't know there was a roller derby league on the Tillamook Coast, you're not alone. That's because this baby league just recently applied for 501c3 nonprofit status, which is a requirement of competition, and is still training its skaters to pass minimum skating requirements – yet another competition requirement.
But these Tillamook Coast Derby Dames are closer than anyone has ever gotten to creating a roller derby league for Tillamook County. The nearest team, Shanghaied Roller Derby in Astoria, recently disbanded, and several of its skaters who live in Tillamook County decided to create a league closer to home.
It was with the Shanghaied Roller Dolls that Dawn Ahlers, aka Mz. D Meen'her, got her start with roller derby. A Manzanita resident, Mz. D Meen'her decided it was time that Tillamook get its own league.
"I tried several years ago to start a league in Tillamook, when I was getting tired of the drive to Astoria twice a week," she said. "But back then we didn't get a lot of traction or interest, so it was put on hold for awhile."
Then in January of this year, with help from her former teammates, Shelly Imholt, Skid Vicious (Kerri Scott) and Skid's husband Radd Pitstains, the group found some willing skaters and decided to try again. Since then, they have been training a gander of girls who are working hard to be Tillamook's first derby team.
"We have about 20 girls, give or take, and most of them hadn't been on skates since they were a kid," Skid Vicious said.
The Derby Dames have been practicing two nights a week at Tillaskate, learning everything from blocking, hip checks, proper ways to fall and of course the rules and regulations of women's flat track roller derby.
Roller derby has been through several revivals since its creation in the 1930s as an escape from the depression-era. Back then, it was a men's sport designed as an endurance race and played on a banked track. Audiences enjoyed the speed of each race and the occasional wipe-outs.
By the 1970s, women's teams had become more popular to watch, due in part to fishnet stockings, witty derby names, dramatic rivalries and no-holds-bar brawling – most of which was choreographed for entertainment.
Then, in 2001, a group of women in Austin, Texas decided to reinvent the concept of roller derby into an actual sport. The biggest game changer of this most recent incarnation was the switch to a flat track. Suddenly, anyone with a flat surface, a roll of duct tape, and a pair of skates could start a roller derby league.
With help from other leagues (including Rose City Rollers in Portland) the Women's Flat Track Derby Association was born, and remains the agency that governs the rules, sanctions, rankings and leagues, as well as the minimum skills each skater is required to pass before being able to "bout" against other leagues.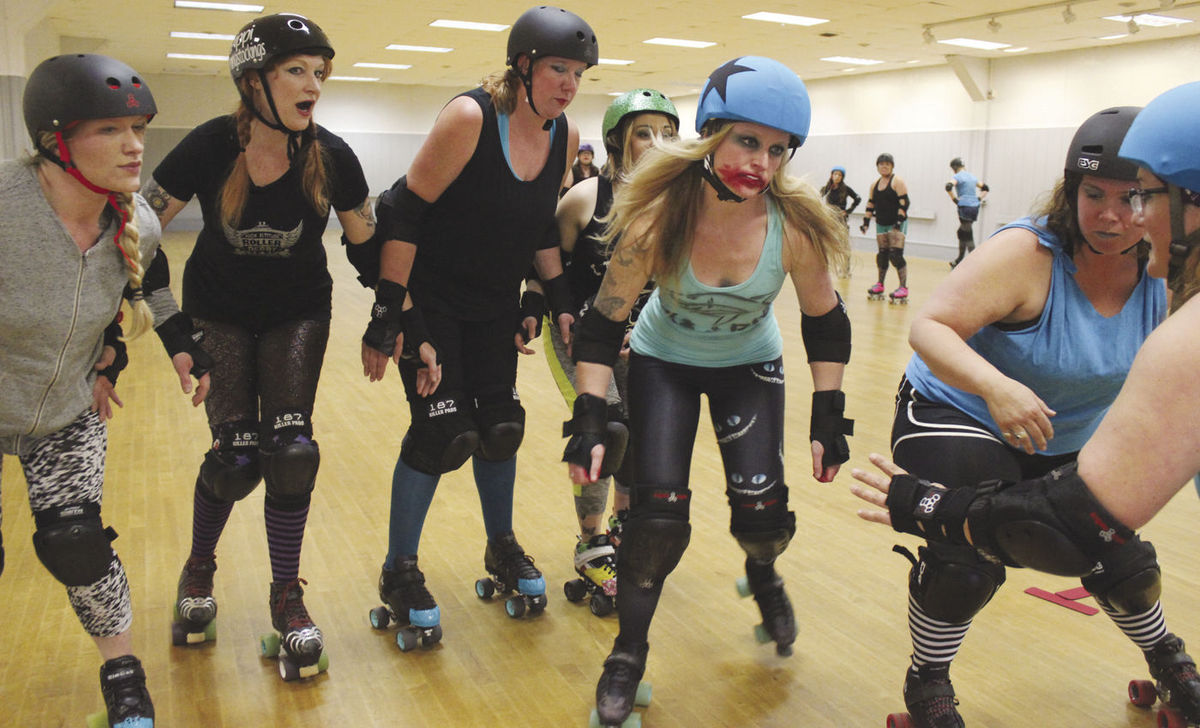 And while roller derby is a bonified, full-contact sport with more than 300 leagues across the U.S, some of the fun and flare of the older versions still exists – such as the dramatic alter egos taken on by each skater.
The Tillamook Coast Derby Dames are still in the process of becoming a sanctioned league through the Women's Flat Track Derby Association, and their goal is to host public scrimmages this summer and be ready to bout other teams by 2018.
"Bouts bring in people from all over," Skid Vicious said. "Derby enthusiasts will travel to watch their favorite team, and we are excited to bring this type of tourism to Tillamook County. It's just one more reason for people to visit the coast and get to know us better."
Until then, the Derby Dames will be making appearances at this year's June Dairy Parade and Festival on June 24 and Moonlight Madness in August.