Tillamook Coast Life Blog
TOP 5 Tillamook Coast Boarding Adventures
With such a long stretch of the Oregon coastline, the Tillamook Coast offers a variety of boarding adventures for all members of the family. From leisurely paddle boarding along our serene estuaries, to catching waves off our scenic coast, here's our top 5 boarding adventures on the Tillamook Coast.
Stand Up Paddle boarding (SUP)
If you're looking for a relaxing way to explore the Tillamook Coast, stand-up-paddle boarding is the perfect escape. With rental options in Pacific City, Manzanita, and Wheeler, there are a variety of rivers and estuaries which provide secluded views of the coast's beautiful scenery.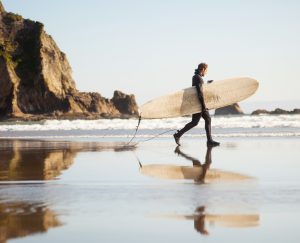 Surfing
For those interested in experiencing something a little more extreme, check out the Tillamook Coast surfing scene. If you're heading up north, stop at Bahama Mama's Bike and Board shop to get outfitted to surf at Oswald West State Park. If you're down south, head to Moment Surf Company to get all the gear you'll need to surf in Pacific City.
Skateboarding
If skateboarding's your thing, grab your board and visit one of our skate parks. Located in downtown Tillamook at Goodspeed Park, the newly renovated Tillamook Skate Park provides a mix between street and transition skating. Ken Downie Skate Park located in Bay City is a popular park that was designed by DreamLand Skate Parks, builder of world-class skate parks including the Vans Pro Series Championship Skate Park.
Skimboarding
For a unique boarding activity, make sure to try your hand at skimboarding. This sport involves "skimming" across the shallow areas of water where the waves break onto shore. To get outfitted head to Moment Surf Company in Pacific City, Bahama Mama's in Manzanita, or Flamingo Jim's in Rockaway Beach.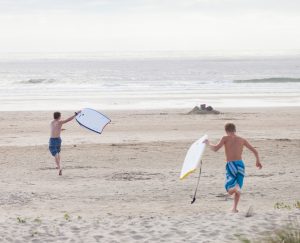 Boogie Boarding
If you're looking for a boarding adventure the whole family can enjoy, rent some wetsuits and boogie boards and go hit the water. Boogie boarding is a great way to catch some waves while staying in the shallows. Flamingo Jim's in Rockaway, Bahama Mama's in Manzanita, and Moment Surf Company in Pacific City are a few places that provide all the equipment you need to get out there and get boogie boarding.
While there is a lot of fun to be had along the Tillamook Coast, please be aware of the dangers associated with ocean activities. Oregon's beaches are not manned by lifeguards, so it is up to you to take the necessary precautions to have a safe, fun trip to the beach. Sneaker waves and riptides make up the majority of rescue attempts, so it is important to be informed about the signs and characteristics of these hazards. The link below provides some information about how to be prepared if you find yourself in a dangerous situation.