Pelican Taproom
One of the newest additions to downtown Tillamook, the Pelican Brewing Co. Taproom sits in an old warehouse in the industrial portion of town. As an effort to revitalize Tillamook and brew more craft beer, Pelican Pub & Brewery in Pacific City opened the Taproom as a satellite location to accommodate and expand its brewing capabilities.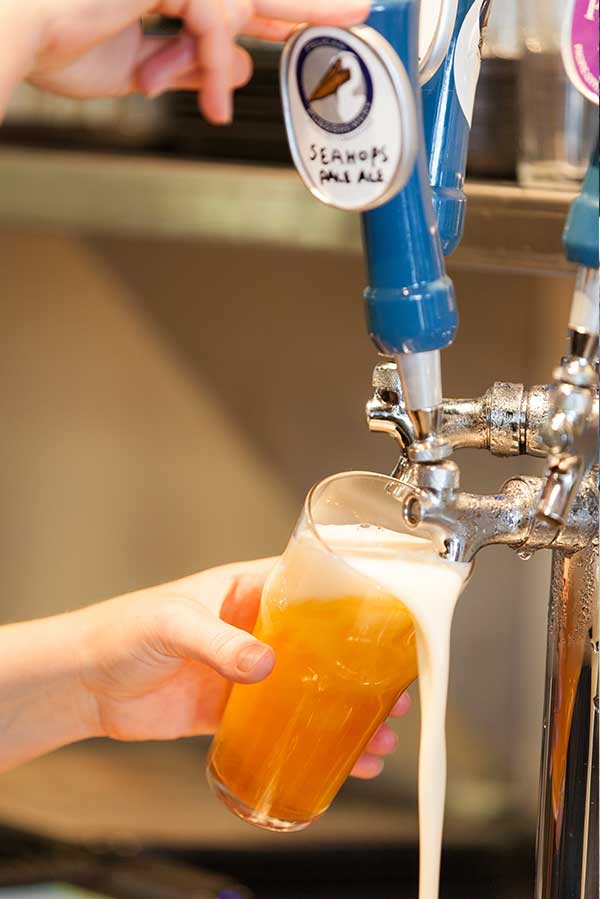 While the Taproom's main function might be to brew a wide variety of award-winning house beers, such as the Tsunami Stout, Doryman's Dark, Kiwanda Cream Ale and an impressive collection of seasonal beers, it also serves as a favorite meeting place for Tillamook natives and tourists alike.
Each menu item is made with local ingredients and paired with a delicious brew. Or try the sampler platter and acquire a taste for Pelican's variety of different ales. After all, the popular pub and brewery that started in Pacific City has been matching beer and fine food for more than 14 years, and they seem to have a knack for it.
Don't forget that it's a working warehouse, so if you're curious about the brewing process, you'll find the setup is great for sitting back and watching the brewers work hard to bring you a delicious beverage. All the fun unfolds below you while you enjoy the presence of great friends, a game of shuffleboard and, of course, a pint of beer. Or take a tour of the brew floor and learn how the highly-acclaimed brewmaster and his crew really create the flavors we know and love. Enjoy regular trivia nights, release parties and other community events that fill the pub with music, laughter and the ripe smell of perfectly aged hops. You'll almost always see people you know and never leave without discovering a new favorite beer or food special.
Just like the waitstaff, the atmosphere is warm and inviting. You'll soon see why it's a favorite around here!