Tillamook Coast Life Blog
Cape Falcon Marine Reserve
Under the waves, the seafloor is largely sand: an ideal habitat for crabs and other animals that like soft bottom habitats.
In the shallower waters, there are small isolated patches of rock where diverse marine life such as black rockfish, lingcod, kelp greenling, and buffalo sculpins can be found.
The shoreline has rocky intertidal habitats where mussels and sea anemones thrive.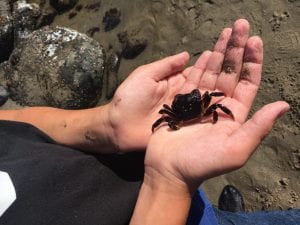 This is a vast portrait of biodiversity and visitors have the opportunity to help build an understanding of what is living on the coastal edge.
Established in 2016, The Cape Falcon Marine Reserve (CFMR) is located along the northern tip of the Tillamook Coast, just offshore from popular Oswald West State Park.
Hiking trails atop the Cape provide views out over the full expanse of the reserve. Visitors can enjoy beach walking, surfing, and birding from popular Short Sand Beach.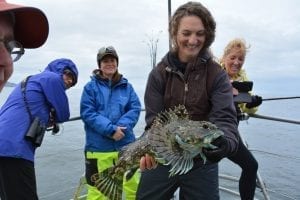 "This is an amazing area full of life, energy and excitement," said Chrissy Smith, outreach coordinator for the reserve. "We want folks to enjoy and appreciate it."
To help in that effort, CFMR partners with a wide variety of local and regional organizations, including Lower Nehalem Community Trust, Lower Nehalem Watershed Council, Haystack Rock Awareness Program, and Surfrider Foundation. They work together to create numerous educational programs such as hikes, boat tours, and workshops. They also recruit volunteers for annual counts of pelicans and cormorants during the summer months.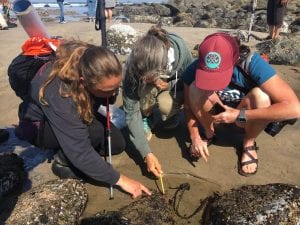 This past summer, CFMR held a BioBlitz on Neahkahnie Beach in Manzanita. There, attendees got a close up look at some of the diversity that lives along the beach and in tide pools and help create an inventory.
The overall push is to help visitors to CFMR realize that its well-being depends largely on them. Practicing "leave no trace" visitation keeps the area pristine for all to enjoy.
There are four other marine reserves along the Oregon Coast, with Cape Falcon being the northernmost location. Cascade Head, Otter Rock, Cape Perpetua and Redfish Rocks Marine Reserves stretch to the south.
If you'd like to see what's happening in CFMR and learn about how you can help their mission, visit them at here.