Tillamook Coast Life Blog
DIY Yarn and Fabric Tour on the Tillamook Coast
Find the highest-quality fabrics and yarns right here on the Tillamook Coast
Why wait for an organized yarn and fabric crawl to hit the Oregon Coast, when you can create one yourself? With several yarn and fabric shops along the Tillamook Coast that specialize in everything from batik fabrics to Mirasol Yarns, you can crawl your way from Wheeler to Cloverdale in a sea of colorful yarn and fabulous patterns.
BJ's Fabric and Quilts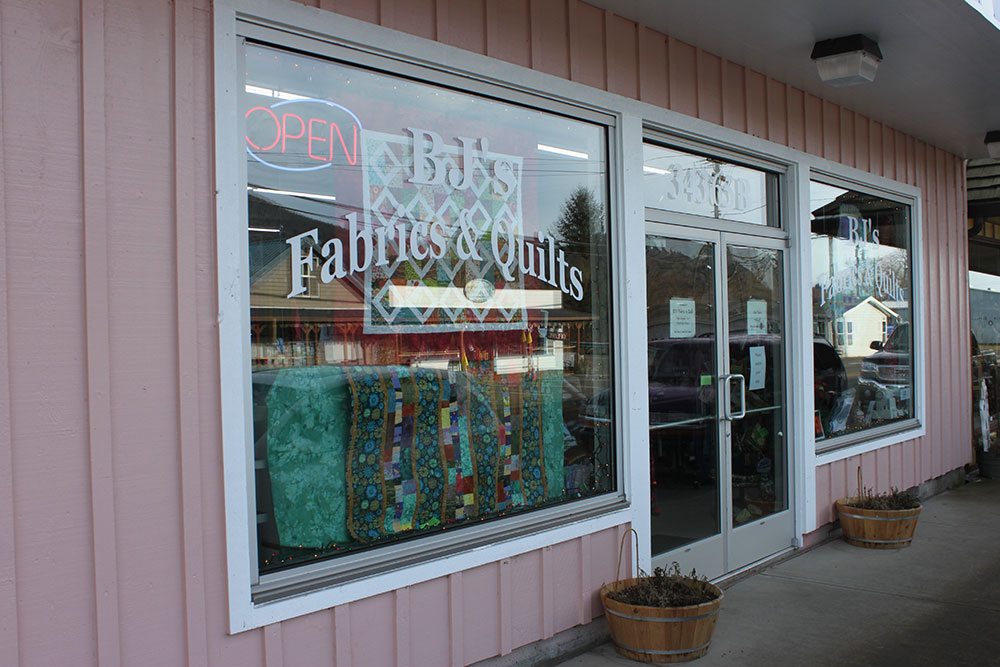 Customers have been relying on BJ's Fabric and Quilts for materials, patterns, and support for two decades.
Last June the storefront moved from the basement of owner Barbara Lewis's home to a shop on Hwy 101 in downtown Cloverdale. The move was a long time coming to make the store more accessible to travelers and locals alike.
Inside, you'll find a wide range of novelty fabrics and batiks – a centuries-old technique of dying fabrics. BJ's batik fabrics come in dozens of phenomenal colors, and each has a high thread count, making them easy to work with.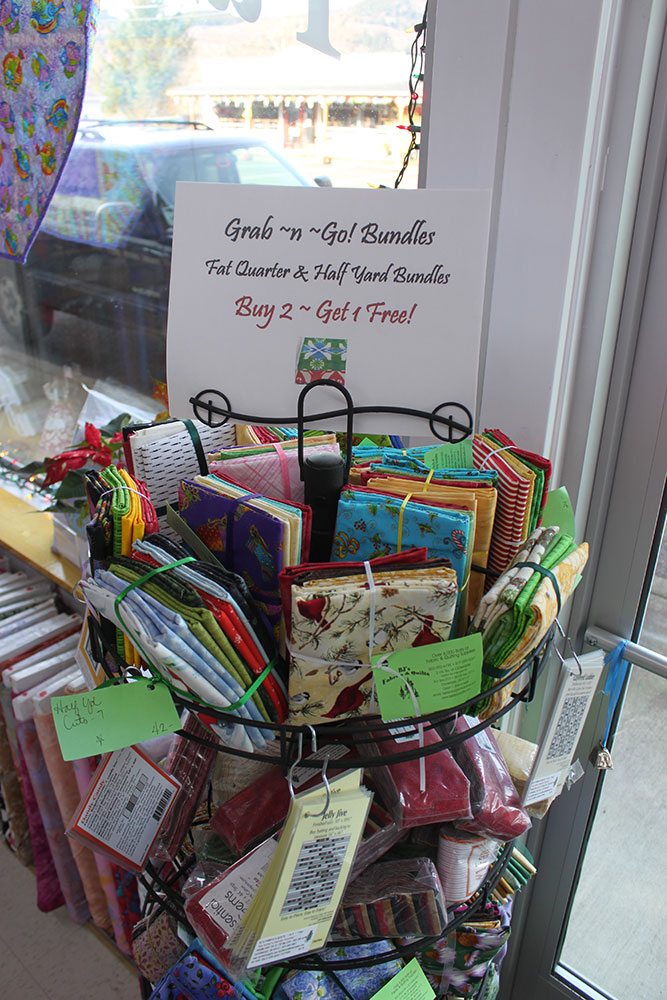 Shop manager Kathy Murphy says has been quilting since she was in middle school, and likes to run educational classes upon request – everything from introductory quilting to more complex stitches. And, BJ's is a stop along the Quilt Run 101, happening this year from Feb. 16 – Feb. 26. This is their 18th year participating in the Quilt Run 101, which includes 13 shops from Astoria to Brookings. Stop by BJ's for prizes, specialty quilting squares, and amazing deals.
Open seven days a week from 10 a.m.-5 p.m., BJ's Fabric and Quilts is located at 38105 Hwy 101 S in Cloverdale.
Jane's Fabric Patch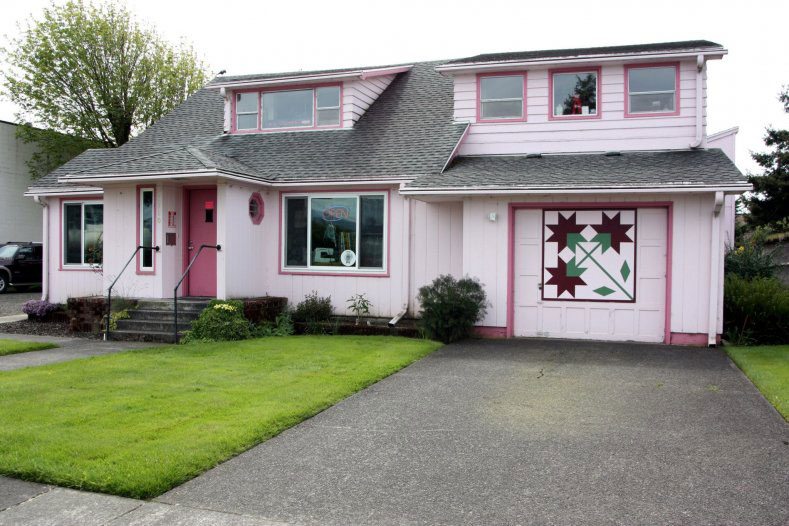 Plan to spend more than a minute when you make a stop at Jane's Fabric Patch, which has been serving Tillamook for more than 30 years. The explosion of colors when you walk in the door is every quilter's dream. And, it's bigger than it looks – around each corner hundreds of fabrics, patterns, beads, and tools are waiting to be discovered for your next project. With more than 6,000 bolts on site, 90 percent of the designer fabrics are 100% cotton and durable to last a long time.
Jane also carries a generous assortment of patterns, tools, kits, notions, sewing machines and books for all skill levels and creative desires. The friendly staff offer a wide range of knowledge, skills and experience and love answering questions, problem solving and offering advice. Fridays often bring a crowd of people who can be found in the back room sewing, quilting and helping each other with projects.
Located at 1110 Main Avenue in the iconic pink house, Jane's Fabric Patch is open Monday-Saturday from 10 a.m. – 5 p.m. (4p.m. on Saturdays).
Tangled Yarns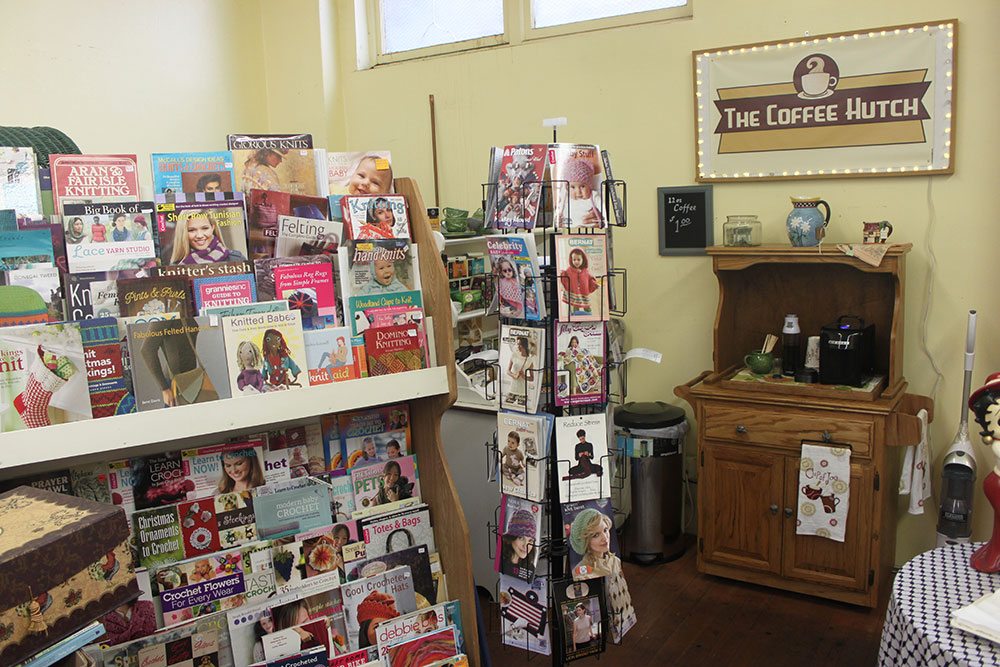 This isn't your average yarn store! This colorful shop boasts tons of personality, and offers knitters everything from locally-spun yarns to commercially-prepared products. If you're looking for European yarns, shop owner Candace Wilkins keeps her shelves stocked with Mirasol yarns, Cascade Pacific Yarn and of course Lily Sugar 'n Cream – perfect for those cotton projects. Shoppers are encouraged to stop, stay awhile and work on their projects at the crafting table or enjoy a cup of cold brewed coffee. Join an open forum group on Wednesday and Fridays from 3-5 p.m. as a great way to meet new knitters, learn skills and socialize with friends.
And of course you'll find needles, hooks, books, buttons, and other locally-made gifts, cards, and chocolates.
If you prefer to let someone else do the work for you, pick up any of their handmade shawls, hats, gloves, purses and other items usually created right in the store by local knitters. Candace also likes to host retreats, so if your knitting or sewing group is looking to hold a retreat on the Tillamook Coast, be sure to contact Tangled Yarns.
Located at 207 Main Ave. in Tillamook, Tangled Yarns is open Wednesday – Sunday from 10 a.m. – 5 p.m.
Swift Stitches

The newest fabric store to open on the Tillamook Coast is Swift Stitches in Garibaldi. Owner Kym Swift, a well known fabric artist, offers  20 years of designs in the form of kits and patterns. She has a great line of textured, nature fabrics,  as well as a community space for sewing or laying out those big projects. Find the studio and fabric store on the corner of Highway 101 and 11th Street in Garibaldi.
Quilt Run 101

And remember, a great time to check out one or all of these stores is during the 2018 Quilt Run 101 from Feb. 16 – Feb. 26. This year's theme is "Beauty and the Beach" and participating stores will have a specialty quilting square that you can pick up for free. If you get a quilting square from each shop and put them together into a quilt, you can enter to win a grand prize Janome Gem sewing machine. And, each entrant will receive one yard of fabric. Each shop will also have special sales and raffles, and other prizes are available the more shops you visit. For more information, visit their website, www.quiltrun101.com.