Tillamook Coast Life Blog
Southbound Shorebirds on Tillamook's Sand Spits
Over 30 species of shorebirds are regular on the Oregon coast, and about 20 more are rare vagrants. A few are resident, but most are migratory, nesting on arctic tundra or in boreal forests far to the north of us, and migrating past us twice a year.  Spring migration is brief and easy to miss, with the great majority of birds coming through during two weeks in late April and early May.  The southbound migration is much more spread out, with migrants on the coast from July into October.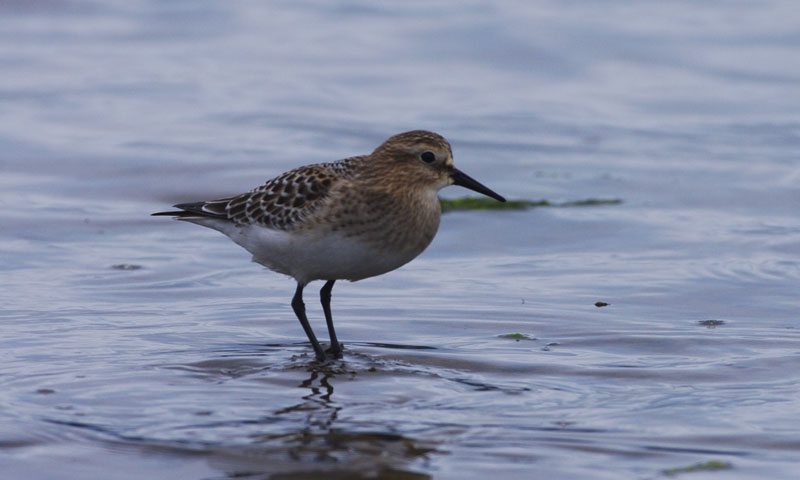 Adults are migrating separately from juveniles, and different species are on different schedules.  Western Sandpipers start moving south very early, but their migration extends all fall, and a few winter locally.  Sanderlings arrive a bit later, but are common on the beaches right on through the winter.  Dunlins (which also winter) are late arrivals, not common until late September.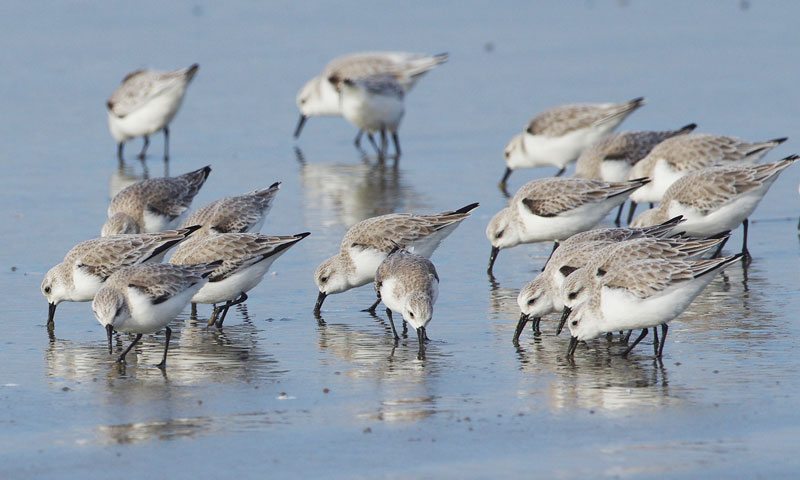 These birds go north to breed, and to exploit the brief explosion of intense productivity of the arctic summer.  In the continuous light above the Arctic Circle, insects and other invertebrates pack a whole year of growth and reproduction into two or three months. You have probably heard stories of the immense swarms of gnats, mosquitoes, and blackflies that make life difficult for people in the north – that's shorebird food!
Migration patterns
The birds arrive in the Arctic as the days are getting long and the nights are disappearing. They go through very quick courtship and are incubating eggs within weeks of arriving.  The short summer only provides time for one breeding chance – birds that lose a nest to an Arctic Fox, weasel, or Pomarine Jaeger are done for the year, and a few of these unfortunates are back on our beaches, lakeshores, and marshes by the beginning of July. As the month progresses adults that nested successfully begin to join the flow.  Surprisingly, most of these birds abandon their young soon after they learn to fly. The adults head south, leaving the juveniles to migrate on their own, a month or so later. By the end of July, a few juveniles are showing up on our beaches, and by late August juveniles may dominate the migrating flocks.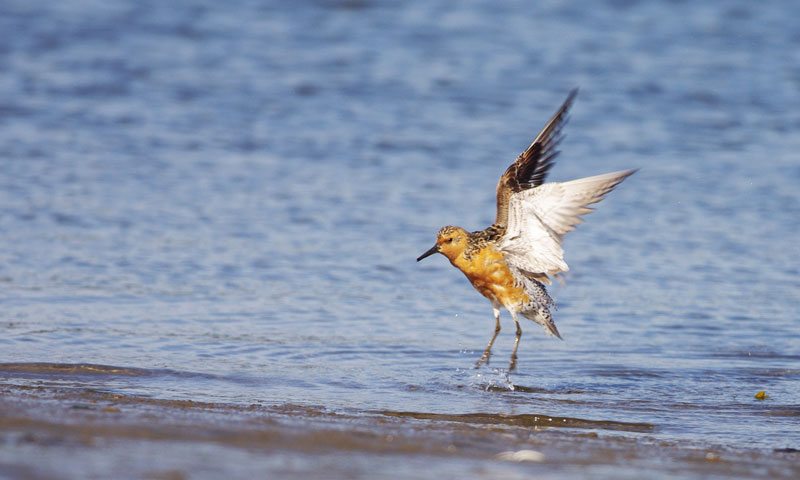 These migrants use a variety of habitats, but most can be found on ocean beaches at least some of the time.  Beaches are also good places to see them because if they are present they can be seen at any stage of the tide. They also use the tidal flats of the estuaries but there, they are so spread out at low tide that they can be hard to find, and are best observed just around high tide. On the beaches, just get out and walk, watching for their characteristic shapes and movements. They generally feed on the wet sand, and roost up above the recent high tide lines.
Sand spits for migratory birdwatching
The four major sand spits in Tillamook County, associated with the mouths of Nehalem Bay, Tillamook Bay, Netarts Bay, and Nestucca Bay, are among the best places for observing these migrants. The other beaches also get used, but if you are willing to walk the spits give you opportunities to get away from the crowds, and see the birds with less disturbance.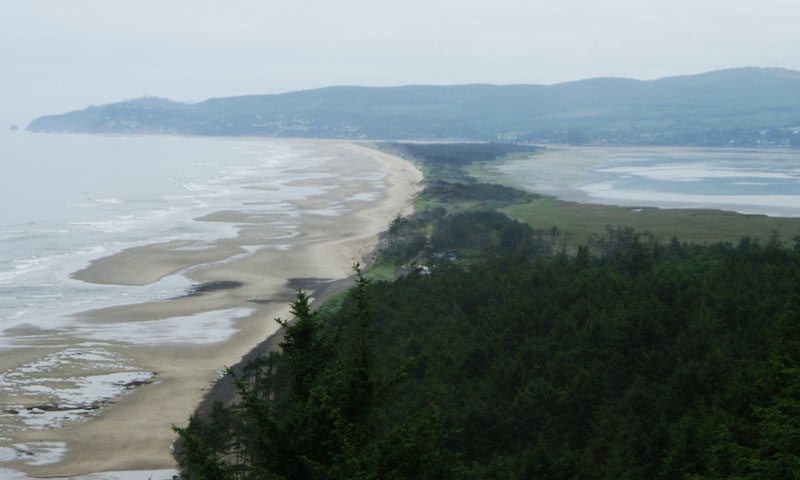 Much of Nehalem Spit is occupied by Nehalem Bay State Park, with over three miles of sandy beach.  The park has a large campground, and charges a day use fee of $5, but if you were staying in Manzanita just to the north, you could probably walk the beach for free.  Manzanita has an additional 2 miles of beach frontage.  The southernmost 2 miles is a management area for threatened Snowy Plovers (one of the resident species) and dogs and vehicles are excluded, and you will be expected to stay on the wet sand to avoid disturbing their nests (of course the wet sand is easier walking). Parts of the bayshore of the spit also attract shorebirds on suitable tides.  The tidal flats are narrow here, so shore-birding can be good on low tides as well as higher ones.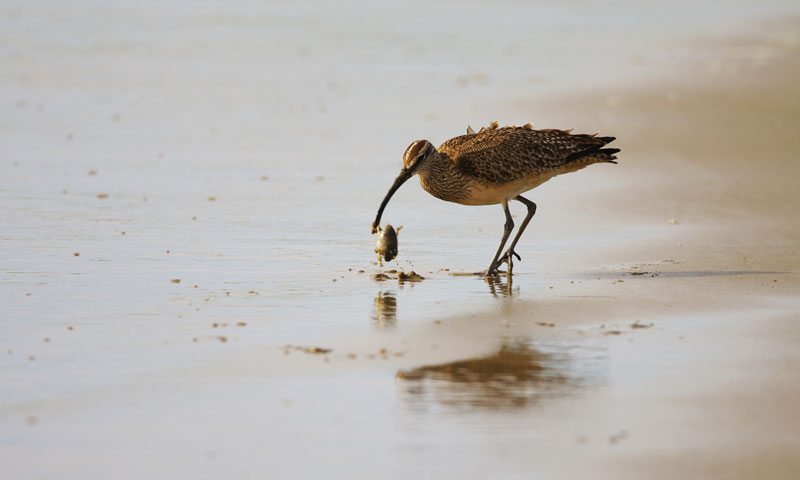 Bayocean Spit separates Tillamook Bay from the Ocean, and is included in Bayocean Peninsula County Park (day use, no fee).  It has about 5 miles of ocean beach, although the beach from the parking area to the tip is just over 3 miles.  This spit has a gated gravel road to the jetty at the tip, so a loop, half on the road and half on the beach, is a good option.  The road gives views of the bayside mudflats, which also are good for shorebirds on higher tides.  This summer the water is drawn down for maintenance in Cape Meares Lake, at the base of the spit, so it is attracting some shorebirds as well.
The Netarts Spit is included in Cape Lookout State Park (year-round camping, $5 day-use parking fee).  The beach stretches north over 5 miles from the developed park area, so a little hike will separate you from the crowds.  The bay side of the spit is saltmarsh, which can be attractive for shorebirds like Pectoral Sandpipers and Golden Plovers, but is a bit more difficult walking than the beach.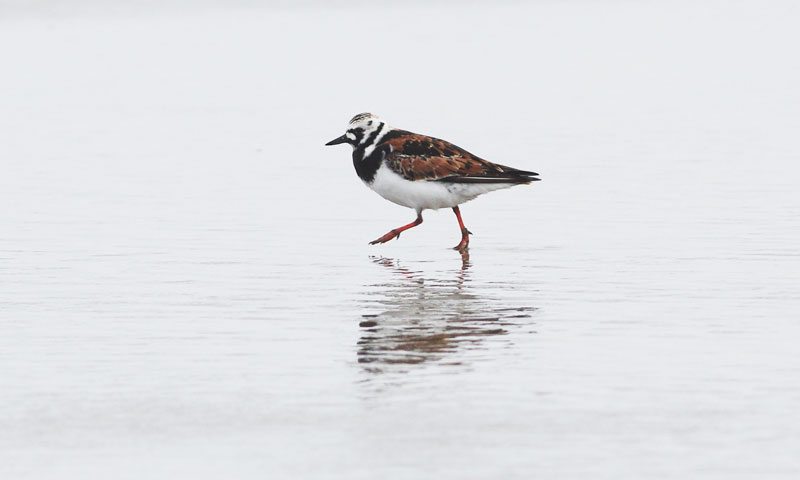 Nestucca Spit is included in Bob Straub State Park, in Pacific City (no fees).  Driving is allowed on this beach, but only from access points north of the park.  The beach extends about 2.2 miles from the Park beach access point to the tip of the spit.  A narrow sandy beach extends over a mile up the bay side of the spit, and may host shorebirds as well.  This bay-side beach is not open for driving.
Many of these arctic migrant shorebirds are in serious decline, suffering from degradation of their best migratory stopover areas and wintering areas, so enjoy them while they are here, but watch from a distance, and don't chase them around.  If you watch, they are quite good at letting you know how close you can come before you are bothering them.  When they start to move away from you, let them have their space.  You can often get much closer by walking at an angle past them rather than walking straight at them.