Tillamook Coast Life Blog
Top five children's playgrounds on the Tillamook Coast
Sometimes after that long car ride from Portland to the Oregon Coast, the first thing you need to do is just let the kiddos run off some energy. After all, they've been sitting (mostly-still) and somewhat quiet for a few hours in the back of a cramped car and they're ready to feel that sunshine on their face and spin some magic on a merry-go-round.
Since finding parks with decent children's playgrounds can be a bit of a challenge, here are five of the best spots to remember for your next trip to the Tillamook Coast.
Manzanita Playgrounds
Manzanita City Park is a great choice not just for the little ones but even for the adults and right in Manzanita.
With two tennis courts, a full-sized sand volleyball court and a colorful playground structure inside a giant sandpit, it's a match made in heaven for the most active of families. Located just blocks from the Pacific Ocean, you can enjoy the sound of the waves while you run up an appetite. And, with three covered picnic areas, it's the perfect spot to stop for lunch too.
The kids will love the colorful, towering play structure, winding tunnels, two sets of monkey bars and swing sets suitable for all ages. Just be prepared to get a little sandy.
From Hwy 101, head west on Laneda Avenue. Turn left on Third Street and head down a quiet, residential neighborhood full of beach houses and coastal foliage, take a right on Pacific and the park is on your left. Public restrooms available.
Nehalem Playgrounds
Nehalem City Park is perched on the top of the hill in a residential neighborhood in Nehalem, and with no signs signaling where it's located, you can usually have the entire park to yourself. While it's a bit of an older park, it's well worth the drive up the hill – especially if you also brought Fido with you. There are two nice open fields great for tossing the Frisbee around and letting him stretch his legs. Nehalem State Park also boasts plenty of shaded picnic benches for a family picnic or just a chance to get out of the sun.
The nostalgic playground includes a merry-go-round, swing sets, a seesaw, and a towering slide that's not for the faint of heart.
From Hwy 101/ Riverside Drive turn left on Tohls Ave. Take your first left on 8th Street. Take a slight right onto 9th Street. Turn right to stay on 9th Street. The park is on your left. Public restrooms available.
Two playgrounds in Rockaway Beach
Rockaway Beach is a fantastic place for parks and playgrounds that your kids are sure to love. With two fabulous options available, you can easily spend an entire afternoon at the park.
Rockaway Beach City Park is a favorite for family reunions and large picnics because of the ample covered picnic area right near the parking lot, making it nice and accessible for those who can't walk far. And a long open field can accommodate even the most rambunctious of pets who have also been waiting patiently to get to the Oregon coast and have some fun.
The playground, while older, is a favored choice because of how unique it is. Sure you'll find swing sets and monkey bars, but the pride of the park is the fairy-tale like castle that rises up from the ground. Children have to climb into the tree trunk and up the ladder with steps shaped like leaves to get to the covered top, where they can either slide down to the bottom or test their skills on the topsy-turvy monkey bars. For those particularly imaginative kids this whimsical take on a playground is sure to delight for hours.
From Highway 101, head east on Third Street at the post office and then north on Coral, following the signs for City Park.
Rockaway Beach Wayside is another spot you don't want to miss. This one is right off the beach so it tends to be more crowded, but the nearly brand-new playground is contained inside a nice fenced area to keep the little ones from running out into the parking lot. It's magically shaped like a pirate ship and you can even see the sails flapping in the wind as it sets sail for the great Pacific Ocean. Again, it's perfect for those who are at home in the world of make believe and would enjoy pretending to be pirate for a day.
This playground is right in the heart of Rockaway Beach and adjacent to the Rockaway Beach Chamber of Commerce. There is tons of shopping and restaurants all just across the street or within a block or two. If you want a one-stop shop for family fun, then the Rockaway Beach Wayside is clearly calling your name. The kids can easily go from captaining a ship to playing in the surf and sand without you ever having to move your car. And when you're ready for a bite to eat or a little shopping, it's all right there too.
The Wayside is located off Highway 101 on First Street.
City of Tillamook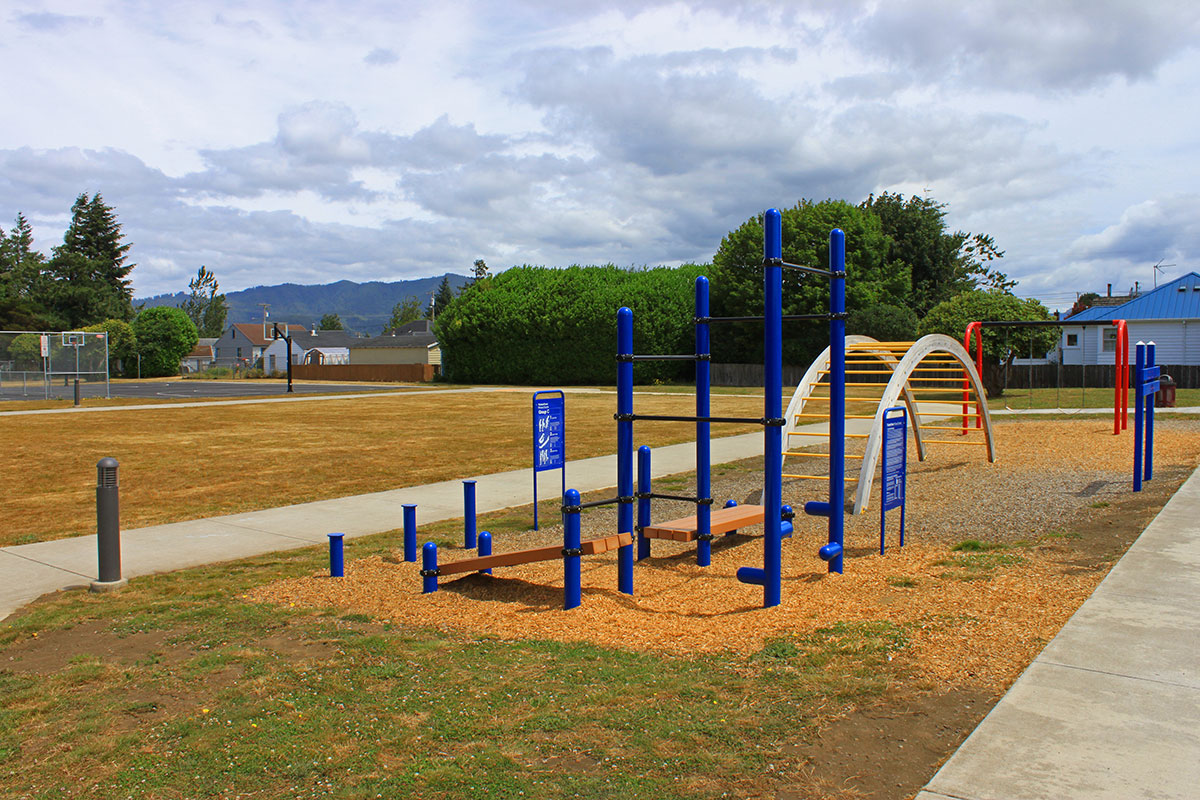 Coatsville Park in Tillamook recently got a makeover that included a new parking lot, brand new bathrooms, a new swing set and refinished tennis courts. If your kids still want a park experience but are a little too old for climbing all over playground equipment, then this is probably the park for them.
Two fenced-in tennis courts, a basketball court and an outside gym that accommodates multiple exercises makes it a great pick for the really active family. A paved walking trail winds around the tennis courts and even the swing sets are built more for taller kids. It's a great spot to just stretch your legs, play a friendly match of tennis, or get out the jogger and take the baby for a walk.
You won't run into too many people at this park either because, while it was only just recently remodeled, there aren't any signs to let people know where it is.
From Highway 101 in Tillamook, head west on 9th street. Follow 9th street for about seven blocks. The park will be on your right. Public restrooms are available.