Tillamook Coast Life Blog
Grant's Getaways: Along the Little Nestucca River
Many folks find their lives speeding by at a shattering pace this winter. Grant suggests that you take a deep breath and savor a getaway that lets you go with the flow and follow the tide and trails Along the Little Nestucca River.
Take a deep breath and savor a place meant for the quiet times along the Little Nestucca River in Tillamook County.
The waterway cuts a beeline thru the Nestucca Bay National Wildlife Refuge and the trip is so easy anyone can try on a river paddle with local guides called Kayak Tillamook who cater to beginners.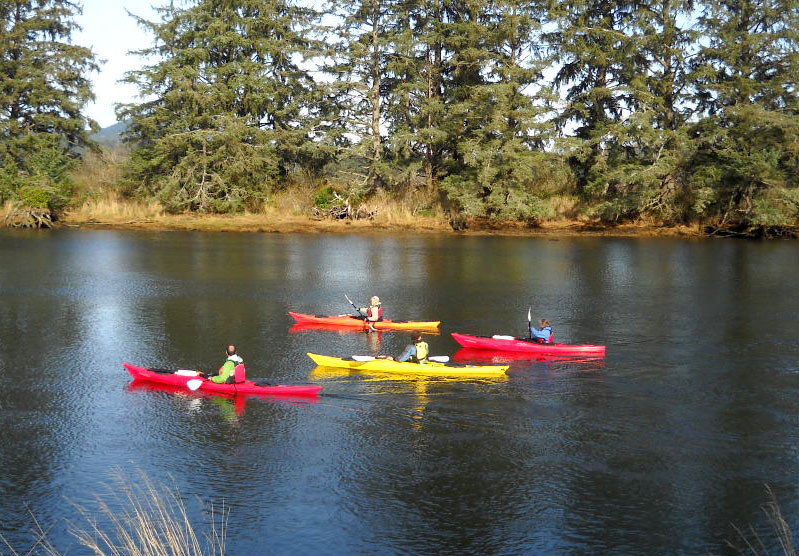 "The paddle trip flows right next to the forest and through the wildlife refuge," said guide Marcus Hinz. "As you paddle out toward the bay you quickly forget there's anything else around you except the wildlife."
You may see bald eagles, red tail hawks, osprey, deer, elk, beavers, river otters and more – in fact, the bird life is remarkable.
Be sure to dress warm and in layers to accommodate your level of activity.
Avoid cotton and do not forget a rain jacket cap and gloves.
A life jacket is provided, and it is mandatory on a trip where safety comes first!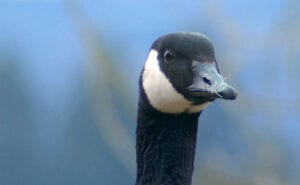 "When you're paddling in a kayak, you're much less intrusive than a car," added Hinz. "You get pretty close to the Canada geese and other waterfowl because…in a small boat they're not as frightened away from you."
Nestucca Bay Wildlife Refuge is also a place where you can leave the paddles behind and take a stroll along the refuge trail, just off Cannery Hill Road, that meanders across heart of the refuge.
Retired US Fish and Wildlife Biologist, Roy Lowe, said that NBWR was established in 1991 to protect Canada geese that migrate to coastal Oregon from Alaska.
"You are missing something special if you don't come up and take a look," noted Lowe. "While you drive may drive by the site on Coastal Hwy 101 and see this ridge, folks should really take a drive up here. The refuge is spectacular!"
It is also a refuge that's been successful for wildlife protection. Lowe added that in the late 80's, up to 1,000 geese wintered across the refuge marsh and pastures. Now, nearly 10,000 geese show up here from November through March,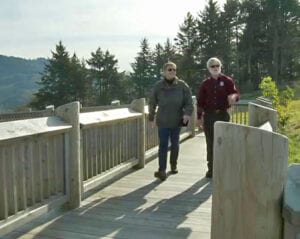 The stunning viewpoint atop the wooden deck offers a breathtaking panorama that reaches from the mountains to the sea.
"Sunset is spectacular, sunrise too," noted Lowe. "In fact, if you come here once that doesn't mean it's going to be the same the next time – it can be spectacular anytime depending upon the conditions."
Back on the river, our paddling party easily glided through the refuge property on the rising tide.
Hinz added, that the Little Nestucca River is a timeless and easygoing adventure.
"It really the best of both worlds because you're seeing the land from the water as opposed to seeing the water from the land, so it is a much more intimate experience and you really feel like you're in nature."
In addition to the NBWR trip, you'll also be pleased to know that there are more than 800 miles of water trails in Tillamook County that reach across rivers, estuaries and sloughs. There's even a map to guide your way: Tillamook County Water Trails.
Be sure to follow my Oregon adventures via the new Grant's Getaways Podcast as I relate behind the scenes stories from nearly four decades of television reporting.
You can also learn more about many of our favorite Oregon travels and adventures in the Grant's Getaways book series, including "Grant's Getaways: 101 Oregon Adventures," "Grant's Getaways: Guide to Wildlife Watching in Oregon," and "Grant's Getaways: Oregon Adventures with the Kids." The collection offers hundreds of outdoor activities across Oregon and promise to engage a kid of any age.
My next book, "Grant's Getaways: Another 101 Oregon Adventures" will be published in 2022.