Tillamook Coast Life Blog
Grant's Getaways: Oregon's Niagara Falls
Feeling a little weighed down after too much Thanksgiving? Try out this getaway that will help you work off the extra on a gorgeous winter hike that leads to Oregon's Niagara Falls!
This week's Getaway may find you thinking you're living in a distant state, but it's true: Oregon has its own Niagara Falls!
Back-road adventures with a sneak peek at nature are the best! And it pays to go with someone who really knows the way like George Buckingham, a retired manager from the Siuslaw National Forest.
"It's a little more out of the way and characterized as more difficult with some steeper portions, but it's also only a mile down and a mile out," noted the longtime forester.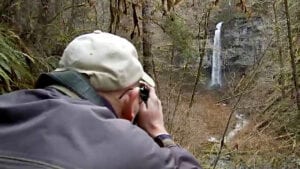 The members of our small hiking party each sported cameras in hand and each seemed on a mission as we trekked high in the coast range hills on a trail you've likely missed.
This is a place where the wet is measured in feet not inches and we were determined to reach a namesake falls that will surprise you.
"We get a lot of questions about that and they wonder – 'Did you name it after Niagara Falls in New York?' – No, it's named after Niagara Creek…which is a tributary of the Nestucca River," added Buckingham.
It's a little known fact that Oregon owns it's own Niagara Falls. It's not been borrowed from a distant state.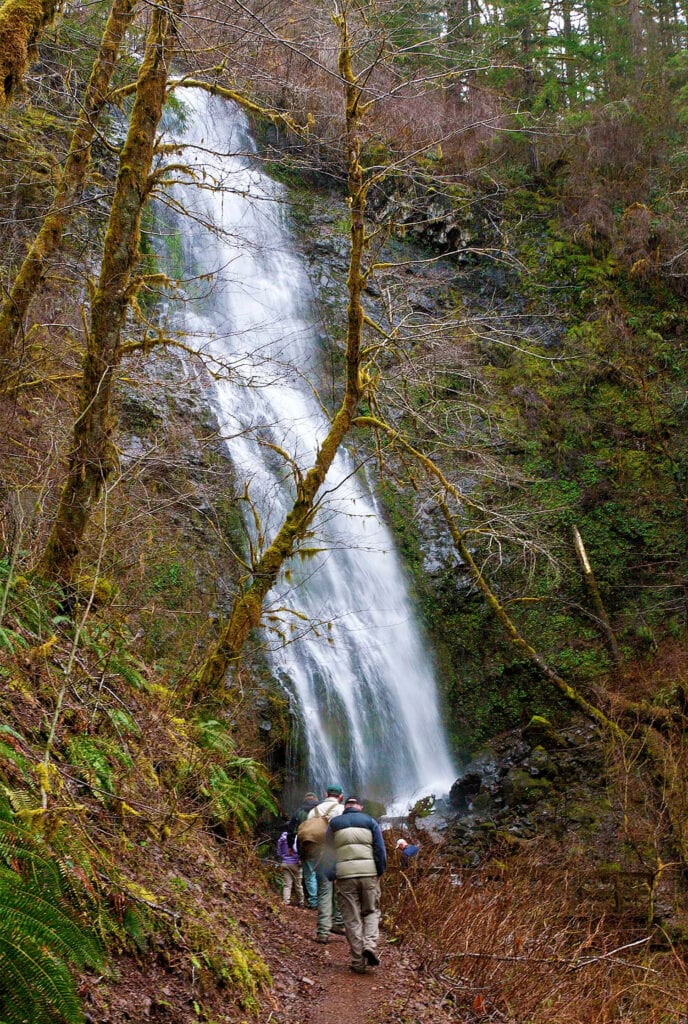 After a mile-long gentle downhill hike (keep in mind that it's all uphill on the way out) and then walk around a rocky bend where you will see that the signs fooled you: there are, in fact, two waterfalls for the price of one hike!
"Yes, it's amazing!" noted Buckingham with a wide smile. "We're looking at Niagara Falls and Niagara creek down below us – but around the corner is the other part of the waterfall pair – Pheasant Creek Falls. So, two waterfalls that you can see at the same time."
Pheasant Creek and it tops out at 112 feet tall, while Niagara Falls is a close second at 107 feet tall.
Both falls were born in the heart of these mtns, and their waters have cut and worn and shaped the 40-million-year-old basalt into a giant amphitheatre.
Don Best was drawn by the power of Niagara Falls – a true plunge pool waterfall that shimmers and whirls as it plows down from a cleft in the ancient basalt. He had never been here before.
"I shoot a lot of different kinds of shots," noted the longtime photographer.
"Because it takes a long while to get in here, I shoot every angle: down by the creek, up high and down low. That way I'll catch something which will turn out."
Nearby, Pheasant Creek Falls photographers Michael Hordyski and Charlie Lonsford, were pulled in by that waterfall's closeness. It was so close each could reach out and touch it. They were impressed by its rich depth of character as a true cascade type waterfall.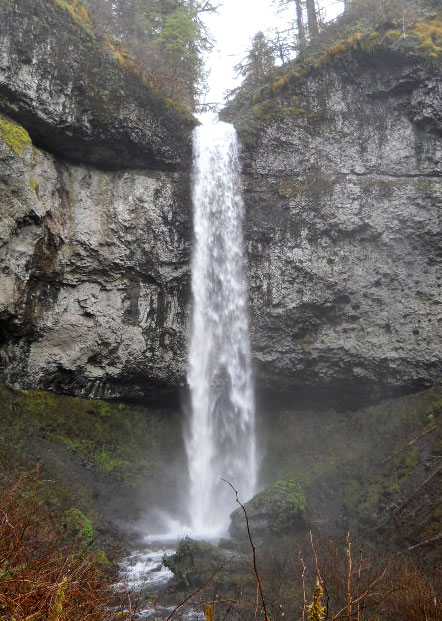 "Today's light is perfect because it's overcast," noted Horodyski. "And this is a great time of year because there's not a lot of foliage on the trees – so you really center your shots on the waterfalls."
Charlie Lonsford added, "There are a lot of falls in Oregon that you can take pictures of, but these are the types of falls that I like to shoot."
If you determine to travel this way, be sure to follow, USFS employee, JW Cleveland's advice. He offered: "Watch your step! It is slick and wet and steep. So, wear proper footwear and rain gear because you never know when something could blow in."
A foot of rain has drenched the heart of the Oregon coast range the past four weeks so the forest, the creek and the falls are wringing wet. Get here soon!
Directions: Drive Hwy 101 south from Tillamook to Beaver, Oregon.
Then travel east on Blaine Road for 6 miles. At Blaine Junction travel east on Upper Nestucca River Road for 5.8 miles to Forest Service Road 8533. Go south 4.3 miles to Forest Service Road 8533-131. Turn right at the junction and travel 0.7 miles to trailhead parking.
Be sure to follow my Oregon adventures via the new Grant's Getaways Podcast as I relate behind the scenes stories from nearly four decades of television reporting.
You can also learn more about many of our favorite Oregon travels and adventures in the Grant's Getaways book series, including "Grant's Getaways: 101 Oregon Adventures," "Grant's Getaways: Guide to Wildlife Watching in Oregon," and "Grant's Getaways: Oregon Adventures with the Kids". The collection offers hundreds of outdoor activities across Oregon and promise to engage a kid of any age.
My next book, "Grant's Getaways: Another 101 Oregon Adventures" will be published in 2022.