Tillamook Coast Life Blog
Grant's Getaways: Ridin' the Rails
It's a terrific adventure when you can combine an Oregon history lesson with outdoor recreation! Tillamook County is home to a dandy! You and the kids can touch history by Ridin the Rails on a unique steam engine train ride in Garibaldi where the Oregon Coast Scenic Railroad (OSCR) connects passengers with a history story that reaches back more than a century.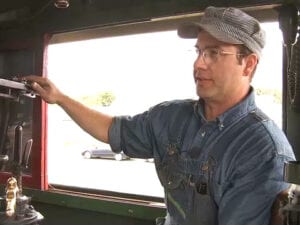 Each morning, train engineer Scott Wickert preps the business end of the OCSR: a Prairie 262 steam engine that roars to life in billowy clouds of steam. The engine was built in 1925 and it burns recycled motor oil and it is rated to pull 29,000 pounds.
"It's like a big industrial furnace," noted Wickert. "The firebox is surrounded by a water jacket and as it boils, the steam rises and moves through super heater units and then down into the cylinders to move the train."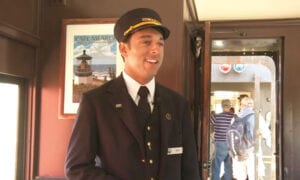 The railroad takes on passengers each day at the Garibaldi Depot for a 90-minute round-trip ride along the coast. It's where you'll find train conductor Tim Thompson who is usually busy checking passengers and punching their tickets; a job he's enjoyed since 2003.
Thompson explained that the first railroad arrived in Tillamook County from the Willamette Valley in 1912. It primarily hauled timber, but it also brought Portland-area passengers to the beach.
"We enjoy an interesting tourism story in Tillamook County – folks discovered that the beach was a nice place to spend their summers – and they came by thousands – just like today," chuckled Thompson.
Tourists quickly fell in love with the sun, the surf, and the chance to get away from it all, according to local historian Don Best. "There were no roads here, nothing but trails in this area," said Best. His grandfather arrived in Tillamook County in 1910. "Back then, you had to go by wagon up the beach line at low tide to get into this area and the railroad train changed everything."
Best added that a century ago, the railroad was the popular way to reach Tillamook County's gorgeous sandy beaches and access was convenient. "You could get on the train at 9:30 in Portland and be walking on Rockaway Beach at 2:30 in the afternoon. It was the most accessible beach on the Oregon Coast in 1912."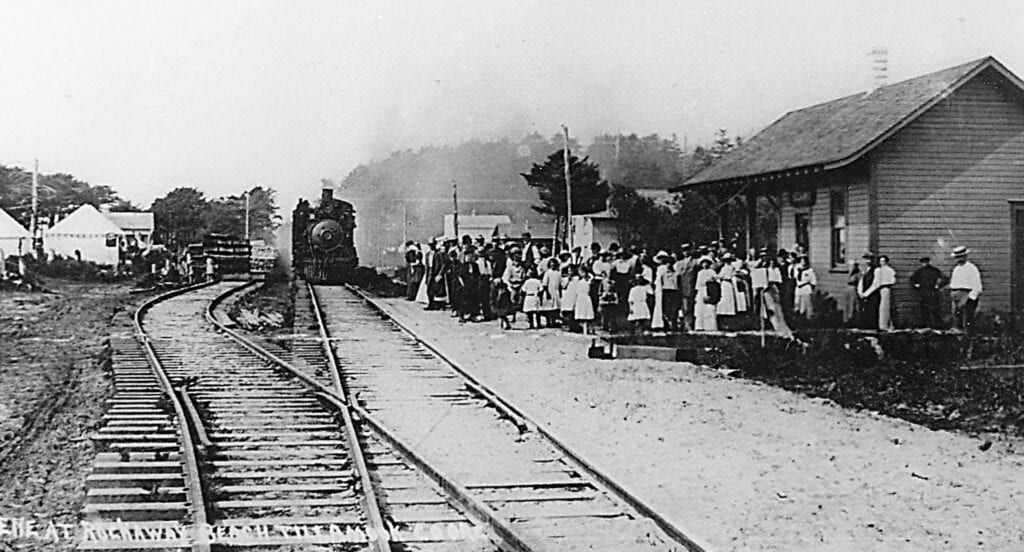 People came by thousands and vacation developments were ready to meet them, boasting familiar sounding names like Manhattan Beach, Brighton Beach, and Saltair.
Most families would travel to Rockaway Beach and stay all summer. People bought or brought canvas tents and set up their summer camp. Eventually, lots were developed, and vacation cabins were built.
These days, the OCSR runs three or four times a day along a 3-mile stretch of track from Garibaldi to Rockaway Beach. At ten miles per hour, the slow pace provides a pleasant cruise.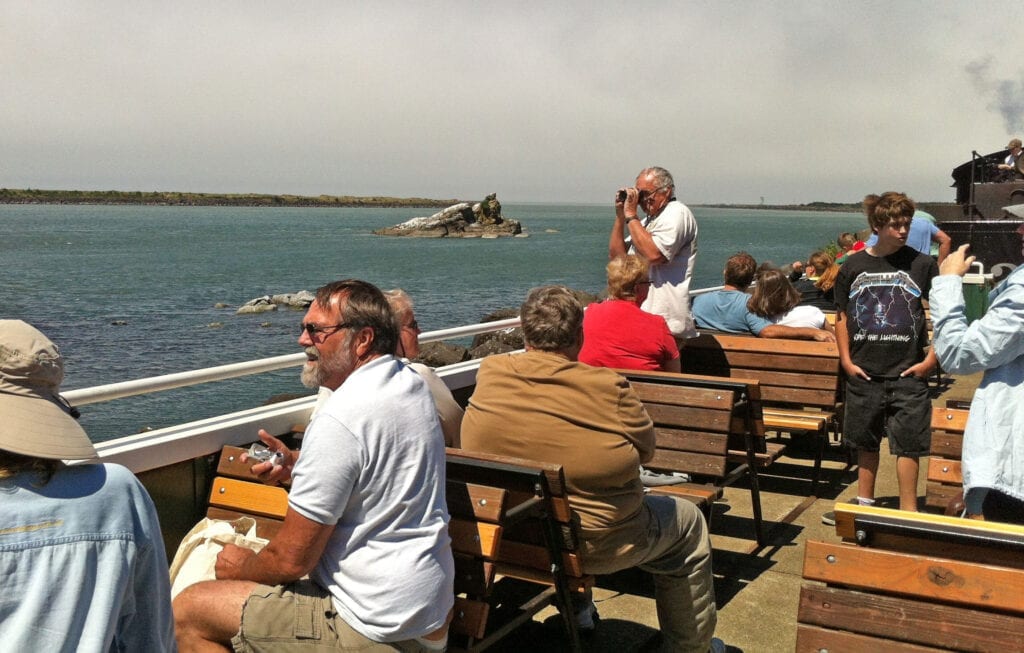 Visitor Ahne Oosterhof said that it's a wonderful way to meet history face to face: "It is a fun way to see all the things that we miss from the highway perspective at 50 miles per hour. This ride is not fast at all and that's nice because it gives me more time to look around."
Conductor Thompson agreed and offered, "On a hot summer weekend in Portland, we are packed! Folks love the open cars with sunshine and cool breezes, while others choose to sit inside our fully restored Wilson River car and reflect on the history of the railroad. It's a lot of fun for folks who've never experienced an old-fashioned train ride and want to connect with Oregon's past."
Be sure to follow my Oregon adventures via the Grant's Getaways Podcast:
Each segment is a story-telling session where I relate behind the scenes stories from four decades of travel and television reporting.
You can also learn more about many of my favorite Oregon travels and adventures in the Grant's Getaways book series, including:
"Grants Getaways I," Photography by Steve Terrill
"Grant's Getaways II," Photography by Steve Terrill
"Grant's Getaways: 101 Oregon Adventures," Photography by Jeff Kastner
"Grant's Getaways: Guide to Wildlife Watching in Oregon," Photography by Jeff Kastner
"Grant's Getaways: Oregon Adventures with the Kids," Photography by Jeff Kastner
The collection offers hundreds of outdoor activities across Oregon and promises to engage a kid of any age.
My next book, "Grant's Getaways: Another 101 Oregon Adventures" will be published in the Fall of '22.