Tourism Facilities Community Grant
CLOSED- 2023 Tourism Facilities Community Grant
This $500,000 grant is made possible by the portion of transient lodging tax funds overseen by the Tillamook County Board of Commissioners. The grant process will be managed by Tillamook Coast Visitors Association. Applicants can ask for up to $75,000 for tourism-related facilities projects.
Application opens September 1, 2022.
Deadline for submission: Thursday, December 1, 2022 11:59pm
Applicant Eligibility: Any city, county, or other local government, including a port, special district, or intergovernmental agency, federal and state agencies that conduct tourism-related activities or services in Tillamook County, and nonprofit  and not-for-profit organizations are eligible to apply, excluding projects in which the County is a lead, sponsor, or key participant.
Project Eligibility:
A conference center, convention center or visitor information center
Other improved real property that has a useful life of ten (10) or more years and has a substantial purpose of supporting tourism or accommodating tourist activities
A "tourism related facility" may also include a master plan, engineering study or architectural work reasonably required to locate, design, or construct a related facility or facilities.
"Visitor information center" means a building, or a portion of a building, the main purpose of which is to distribute or disseminate information to tourists.
Application Packet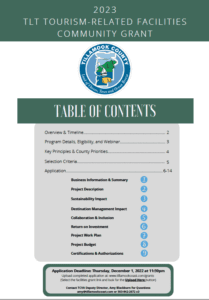 Download the 2023 Grant Information & Application Packet HERE.
**Helpful Tip: Download PDF, Open on Desktop, Choose File Save As and give the document a new name. You may need to Save As each time you make changes. Do not start filling out the application in a web browser preview. It will not save!**

Click box above to register and view On Demand webinar.
50 minutes. General grant tips and specific grant application instructions.
Download Presentation Slides HERE.
Download Example Applications HERE.
Previously Awarded Grant List HERE.
**Helpful Tip: Download PDF, Open on Desktop, Choose File Save As and give the document a new name. You may need to Save As each time you make changes. Do not start filling out the application in a web browser preview. It will not save!**
Questions? Email Deputy Director, Amy Blackburn, at amy@tillamookcoast.com
503-842-2672 Ext 3