FUNDS AVAILABLE!-Tourism Signage Grant
Funds Available – $166,000
Applications Pending – 1              Applications Awarded – 1
Tillamook Coast Visitors Association is allocating $170,000 toward the Tillamook Coast Signage Grant program as a pilot project until funds are exhausted.
The goal of the program is to assist tourism business owners with the costs of upgraded signage which will also improve the visitor experience. Tourism businesses in Tillamook County are encouraged to apply for a grant to install new and well-designed business signage and lighting. The signage projects are eligible for a 50% reimbursement up to $10,000.
Application opened March 15, 2022
Deadline for submission: Ongoing basis until funds are exhausted
Eligibility: Tourism-related businesses and nonprofits within Tillamook County are eligible to apply from the following type of businesses: accommodations, recreation & entertainment, food & beverage, and visitor information centers. Download application materials below.
(Retail establishments are not eligible to apply for the pilot program, but are encouraged to send an email to amy@tillamookcoast.com to express interest in future offerings.)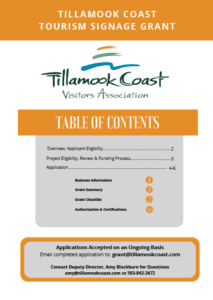 Download the Signage Grant Information & Application Packet HERE.
**Helpful Tip: Download PDF, Open on Desktop, Choose File Save As and give the document a new name. You may need to Save As each time you make changes. Do not start filling out the application in a web browser preview. It will not save!**
Questions? Email Deputy Director, Amy Blackburn, at amy@tillamookcoast.com
503-842-2672 Ext 3