Tillamook Coast Life Blog
Bay City and Beyond!
The Tillamook Coast is dotted with a myriad of communities that cater to the many visitors that travel to our beloved coastline each year.
As you travel north or south along Hwy 101, you may remember the scenic overlook presenting Manzanita and Nehalem Bay, or maybe a memorable stop at the Tillamook Creamery Visitor Center with its endless flavors of locally made ice cream and cheeses.
But what if I told you there's a hidden gem along the Tillamook Coast that offers adventurous visitors a unique chance to see coastal small-town life, all while being nestled in a perfectly centralized location? With a surprising amount of activities for the inner foodie or your external outdoorsmen, the small town of Bay City has a few things to offer!
Not considered huge on the local tourism circuit, Bay City has some great things to do and being just five miles north of Tillamook, it's close to all the action!  Come along as we take you through this quaint coastal village.
Rich in local history Bay City also has quite a bit to offer: spots to entice your love for local fresh foods, cute lodging rentals, adventurous hiking trails, and person-powered railbikes! Come with us to check out everything Bay City has to offer!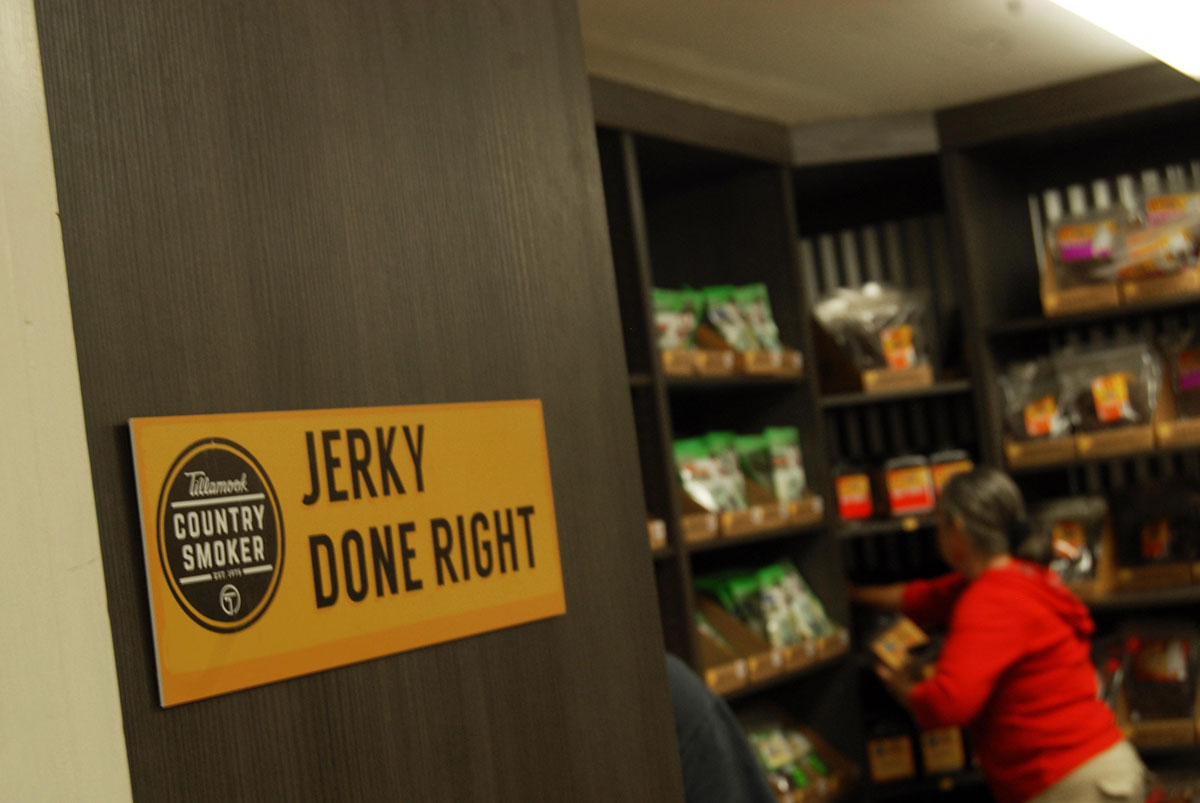 TILLAMOOK COUNTRY SMOKER: You've probably seen their products in convenient and groceries stores from coast to coast. Come visit the factory where it's all made and make sure to stop at the retail outlet (8335 N Hwy 101, Bay City) for pepperoni, teriyaki and peppered meats. These fine quality jerkies, made on the Tillamook Coast, can also be found in exotic locations such as Japan, China, and a number of places in Europe.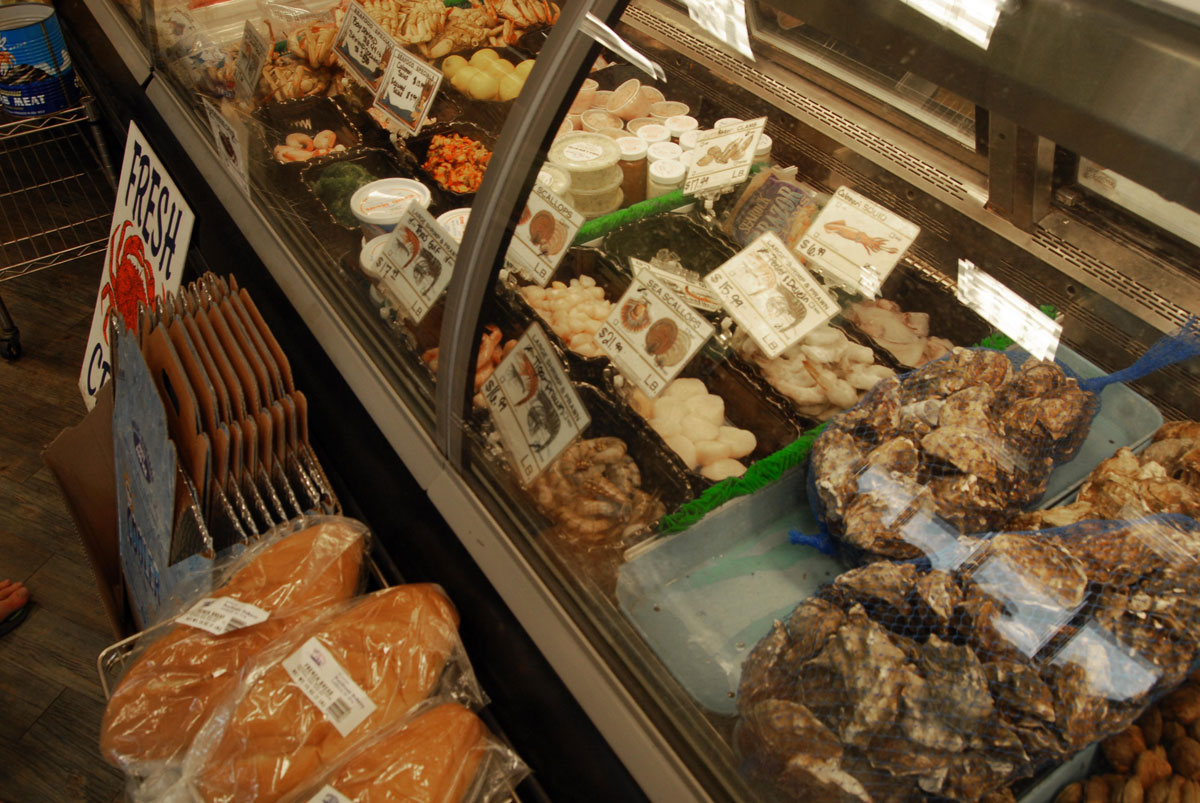 THE FISH PEDDLER: Have you ever had oysters on the half shell? Feel like picking up some daily harvested local clams or maybe a fresh Dungie? (That's Dungeness crab to everyone else). To satiate the seafood enthusiast, The Fish Peddler is here to serve! Featuring a popular dining area where you can have local coastal favorites like freshly caught fish and chips, or maybe a fried oyster burger to fit your fancy. You can eat at the restaurant or just buy seafood to go at their fresh counter. If you choose to stick around, make sure and check out the glass-paned production line where you can watch the true shucking professionals hone their craft with locally grown oysters. The Fish Peddler is located on the bayside of Bay City at: 5150 Hayes Oyster Drive.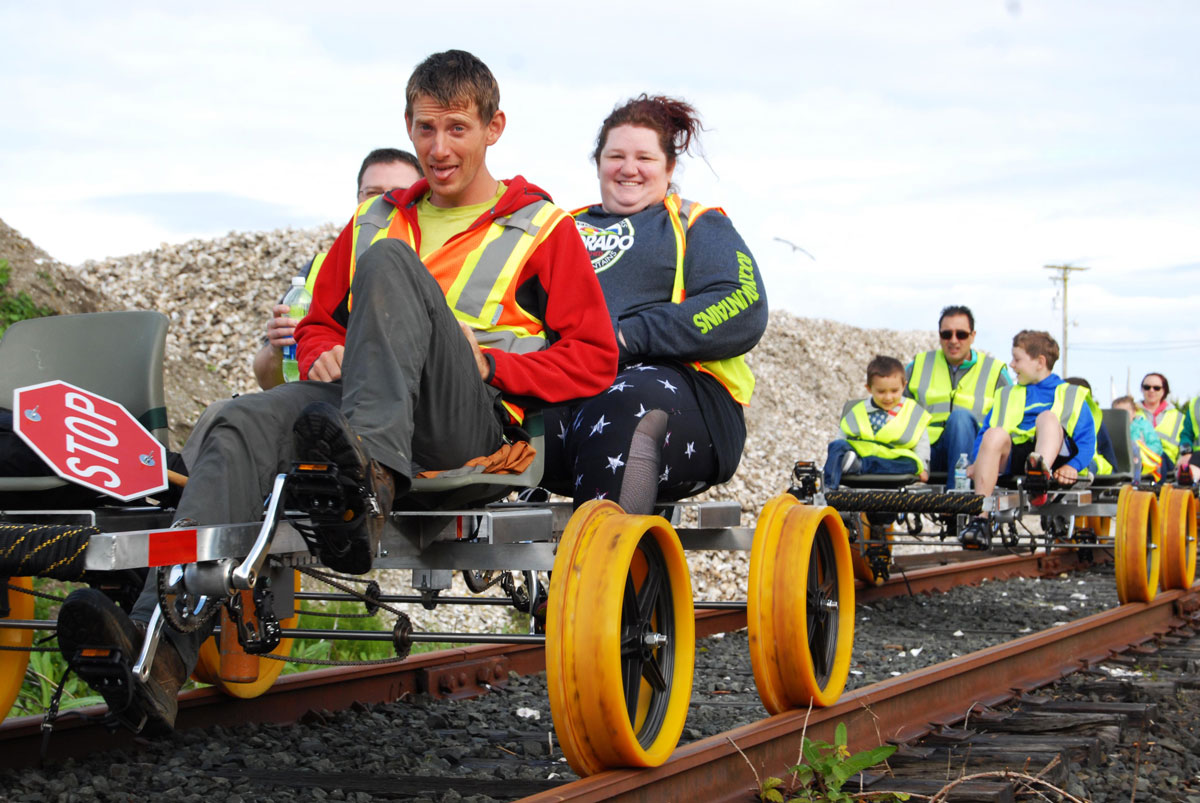 RAILRIDING:  Planning your summer visit already? Be sure to block out some time for this adventure on the Tillamook Coast. Located near The Fish Peddler, enjoy a two-hour, railriding roundtrip ride from Bay City to Tillamook aboard custom-made, four-seat, pedal-powered railbikes! Go along the old scenic railway with your friends and family and enjoy one-of-a-kind views. This is truly a unique experience and caters to almost all ages and ability levels. Make reservations at Twins Ranch Rail Riders.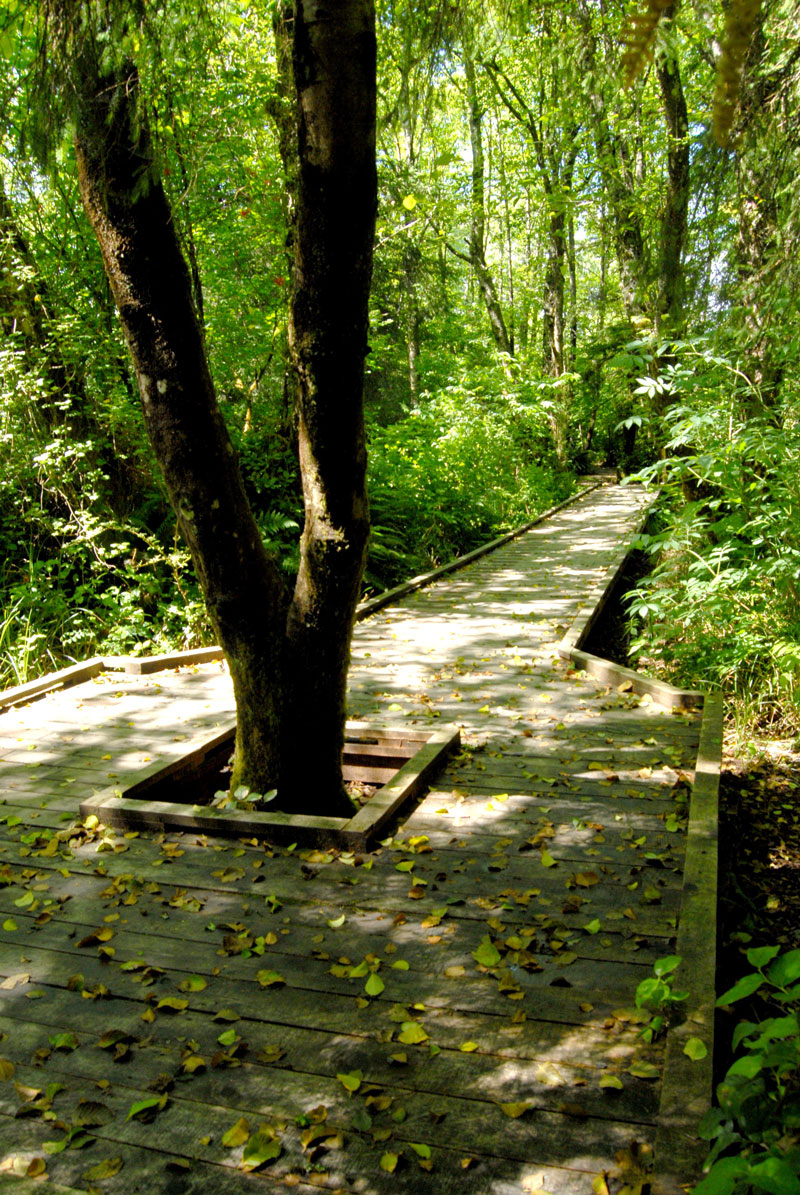 KILCHIS POINT RESERVE:  Two hundred acres of pristine wetland and temperate rainforest make up the Kilchis Point Reserve. This gorgeous new park and trail system was installed to showcase the area the Tillamook natives called home. Nestled on the lower tributary of the Kilchis River, the Reserve features over two miles of hiking trails that end at a giant bird watching station overlooking Tillamook Bay. The trail's difficulty level is good for nearly all ability levels and is wide enough for strollers and wheelchairs. And make sure to check out the numerous informational plaques along the sides of the trail.
The Kilchis Point Reserve was made possible by the Tillamook County Pioneer Museum through donations, non-profit funding, and volunteer efforts.
OYSTERSHELL BEACH: This location can be a little hard to find, but for the adventurous traveler, it's worth a look. Just on the other side of the large piles of oyster shells near The Fish Peddler, the bay laps the shoreline. Over time, the oyster shells are fragmented and become part of the shore, which has created a truly outstanding, local beach. On nice days it can resemble a far off white-sand beach with the sun overhead. Made of hard, calcified oyster shells, this beach is not recommended for a barefoot stroll.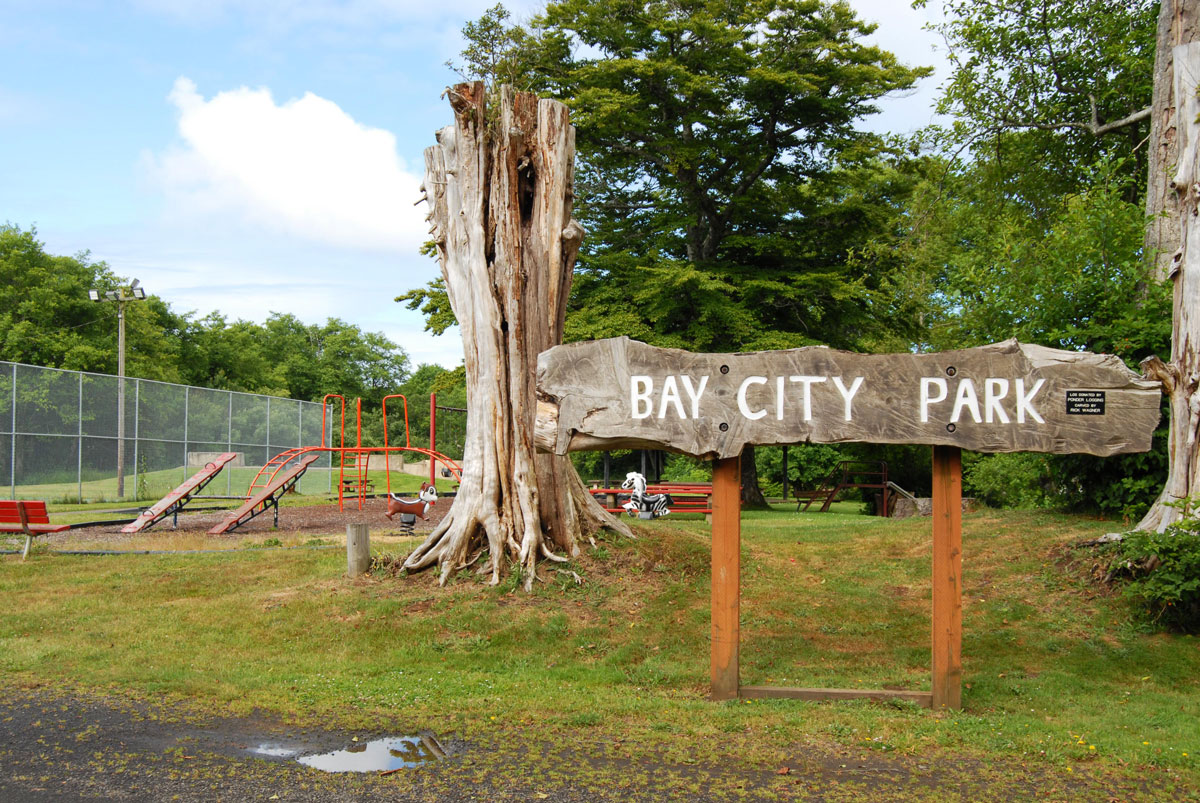 AL GRIFFIN MEMORIAL PARK (BAY CITY PARK):  Tucked away from view of the highway is a pleasant surprise: Al Griffin Memorial Park. This full-sized, outdoor park is open for anyone who wishes to have a day outside. With a skate park in the back, the park also features tennis courts, basketball hoops, swing sets, a jungle gym, a covered gazebo, and outdoor picnic tables. The park can be found along 4th Street in Bay City.
BAY CITY CAMPGROUND: Just to the north of Al Griffin Memorial Park is the quaint Bay City Campground. This site is RV friendly and features a number of paved campsites as well as areas for tent camping only. Located along Patterson Creek, this campground is indeed a hidden gem not far off of Hwy 101. Space is very limited and is first-come-first-serve. Access to the park can be found on Trade Ave., the first left after Al Griffin Memorial Park (Bay City Park) on 4th Street.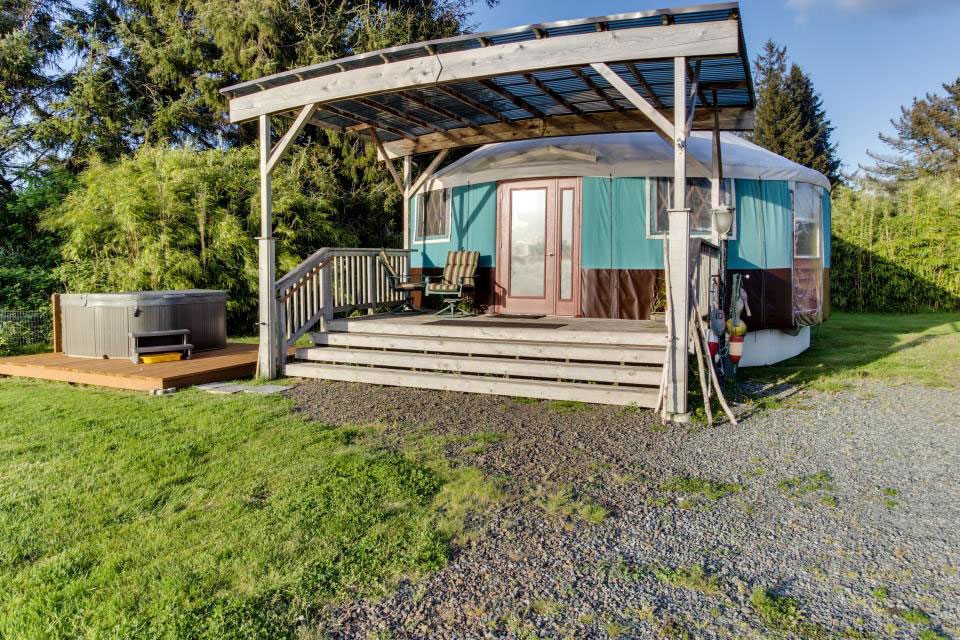 THE YURT ON THE BAY:  Look no further than The Yurt on the Bay for one of the most memorable, unique experiences along the entire Tillamook Coast. The Yurt on The Bay is exactly that: a yurt!  A design utilized by Asian, nomadic cultures for generations, this retreat features a gas fireplace, front porch, a hot tub and wifi. The Yurt on The Bay is a local vacation rental property provided through Vacasa Rentals and booking far in advance is highly suggested!
SHELTERED NOOK ON TILLAMOOK BAY: A tiny home village in Bay City!  Sheltered Nook offers an authentic Tiny House experience where you can rent a small cabin that is designed for comfort and convenience. They provide personalized services and will connect with local tour companies and guide services for your perfect vacation. The property also features secure boat and RV parking on the premises. For booking and information visit the Sheltered Nook's main website!
There are many great things to do, see, taste, and try in the small town of Bay City. May this act as a general guide for some fun and family friendly activities to enjoy along the Tillamook Coast!