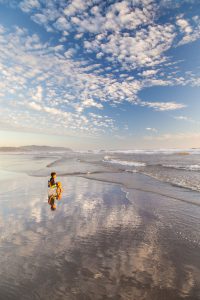 Here in Oregon we don't call the beach the beach: we call it the coast. But of all the wonderful things about our coast, the best is that all 363 miles are free and open to all of us. That's why the Oregon Coast is one of the 7 Wonders of Oregon.
While the sandy city beaches are popular with visitors, there is more diversity here than originally meets the eye when you arrive in town. Along with the sunny days that bring surfing, tanning, and outdoor activities like fishing, the beach also provides great opportunities for bird watching on marshy estuaries, tidepooling on rocky shores, or visiting lighthouses on coastal headlands.
The Oregon Coast's plethora of hidden spots and places where you'll find almost no one has always made its inhabitants big fans of the coast. Along our coast, you'll find beaches unknown to most tourists and even to many locals, providing an endless amount of amusement and watery repose. Many of these isolated, secretive beaches are actually coves. In fact, that's why they remain secret: they're tucked away between rocky structures that form a kind of semicircle of a beach. Often they hide the most amazing features of any of the beaches along Oregon's coastline.
Exercising Your Sandy Freedom: Celebrate Oregon's Beach Bill