Tillamook Coast Life Blog
Tillamook Coast Activities for Families with Disabilities
ADA access, fun adventures along the Tillamook Coast
A mile-long hike may be easy for one person, but out of the question for another. Just as there are a variety of activities, people experience a range of mobilities. Perhaps you experience a disability, are looking for Oregon Coast ADA-friendly activities, or simply want an adventure that is easy to accomplish. Below is a list of Tillamook Coast activities that people who experience a variety of physical restrictions might enjoy:
Explore trails                                    
Kilchis Point Reserve: This 200-acre nature reserve along the Tillamook Bay features a 2-mile paved scenic loop that weaves through abundant native plants, interpretive signage, and plenty of wildlife. Numerous benches are available along the Kilchis Point Reserve interpretive trails.
Nehalem Bay State Park: The park includes a 2-mi. paved, flat trail that meanders past the little airport landing strip and then along Nehalem Bay. This trail is good for scooters, walking, biking and wheelchairs. There are restrooms along the route.
Munson Creek Falls: A short half-mile walk on a wide, flat, family-friendly trail leads to impressive 300+ foot waterfalls. The trail is not paved, but flat gravel on dirt.
Neahkahnie Mountain Summit Hike: Feeling adventuresome? Not in a wheelchair? If you're able to take on a moderate hike, this one starts from the south trailhead and is about 1.5 miles to the summit.
Bum around on the beach
Pacific City: Journey out to the beach; it's a flat beach with easy access. Watch out for dory boat traffic on the beach. After this outing, you can sit and enjoy refreshments at the beachfront Pelican Pub & Brewery.
Manzanita: The beach access to Manzanita Beach is more gentle than most Oregon Coast beach access points. There are no stairs and in most cases, you go straight to the sand (as opposed to navigating through rocks). Head down to the end of Laneda Ave. to find that easy beach access.
Drive the Three Capes Scenic Route for a beautiful, day-long adventure you can enjoy from the car!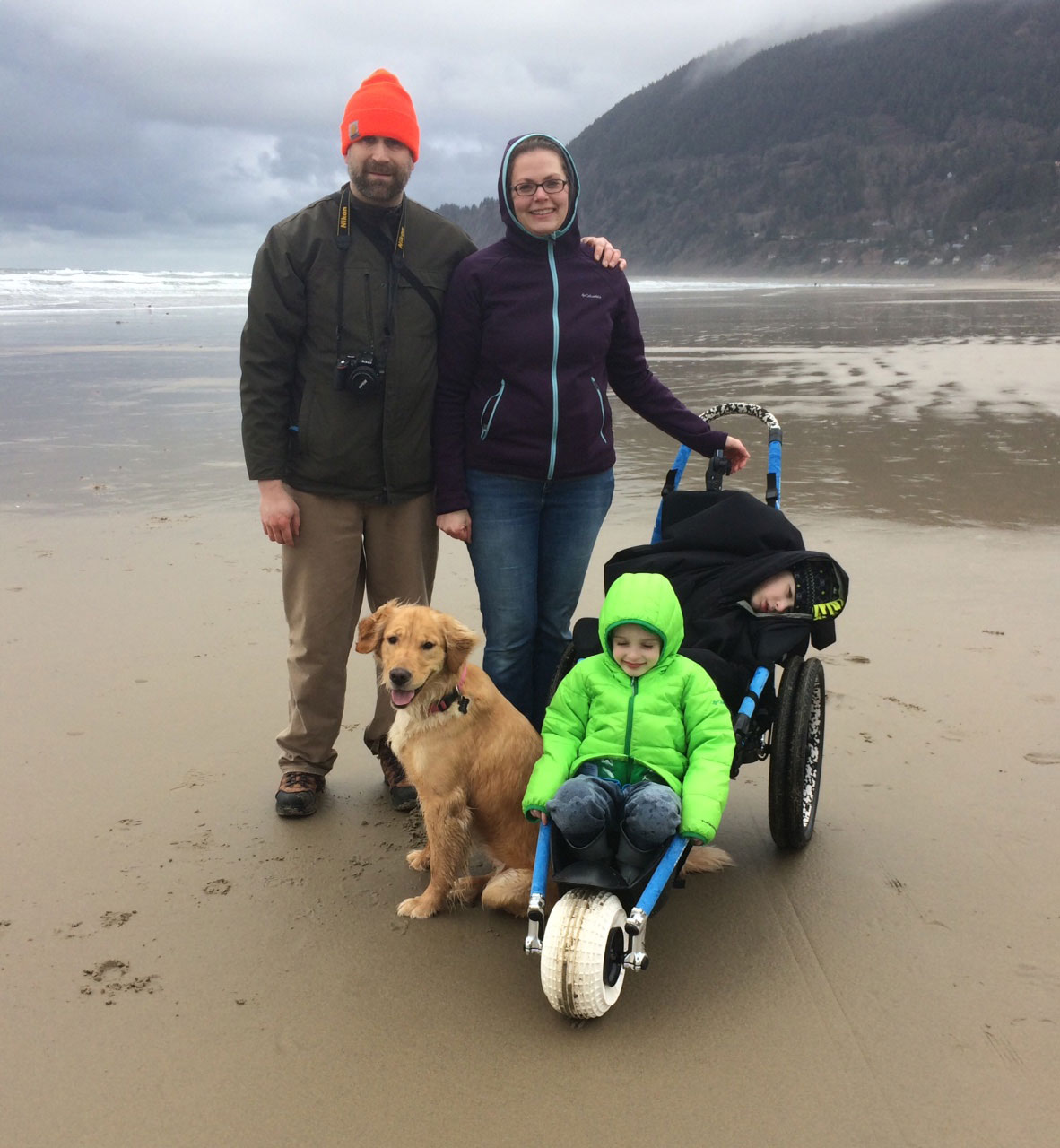 Beach wheelchairs:If mobility issues are keeping you from enjoying our beaches, we can help. There are beach wheelchairs and all-terrain electric chairs available throughout the county. There is no fee to use, but we strongly recommend you contact the following to reserve a beach wheelchair:

In Manzanita, contact the Manzanita Visitors Center at 503-812-5510.  Manzanita also offers an electric motorized beach chair.  It is available from 11:30am – 12:45pm and 1:15pm – 2:30pm on Fridays, Saturdays and Sundays. Make reservations at David's Chair
In Rockaway Beach, contact Troxel's Gem and Jewelry Store. They also have a child's beach wheelchair and a beach walker. Call or text 541-418-2842 or email rockawayrocks@gmail.com
In Netarts at Happy Camp Lodge, reserve an electric all-terrain chair at David's Chair
In Pacific City, for beach wheelchairs, contact Cape Kiwanda RV Park at 503-965-6230 or info@capekiwandarvresort.com.
You can also submit the beach wheelchair reservation form at https://www.capekiwandarvresort.com/beach-wheelchairs
In Pacific City, reserve an electric all-terrain chair at David's Chair
At Nehalem Bay State Park: 503-812-0650 Ext. 20, or stop by the park ranger station
At Cape Lookout State Park: 503-842-3182 Ext. 221 or stop by the park ranger station
At Barview Jetty County Campground: 503-322-3522 or stop by the campground entry station

Fat Tire Bike Rentals:
Bahama Mama's in Manzanita is a bike and surfboard rental store. They have everything from surfboards, paddleboards and boogie boards, to fat-tire bikes and sit-down cruisers.
In Rockaway Beach, contact Troxel's Gem and Jewelry Store: Call or text 541-418-2842 or email rockawayrocks@gmail.com
Nehalem North Fork Fish Hatchery: Access to a fishing platform for steelhead and salmon fishing is available for those with a Wheelchair License, Blind Angler's License, Disabled War Veteran Angling License or Permanent Disabilities Permit.
Lake Lytle at Rockaway Beach: Stocked with rainbow trout from March through early May, this lake has an ADA-accessible dock and generally calm waters.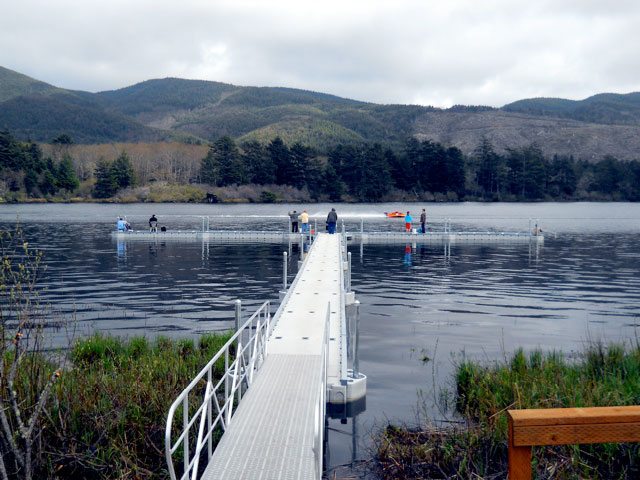 Tillamook River Tidewater Access: You'll find ADA level access, free parking and restrooms at this hidden gem. Take Third St. west from Tillamook, cross over the Trask River and then the Tillamook River, go ¼ mile past Bayocean Rd. intersection and you'll find the access point on the left on the Tillamook River.
Cape Meares Lake: There is an ADA-accessible dock on Cape Meares Lake, just off Bayocean Rd. This Lake is stocked with rainbow trout from March through early May. It's possible to catch bass and bluegill there, as well. While the dock will be ADA accessible, parking is narrow and does not meet ADA criteria.
 Crabbing
Crab from a boat: Small boat rentals, as well as all the gear for crabbing in Nehalem Bay, are available at Wheeler and Brighton Marinas. If you're crabbing to the south at Netarts Bay, you can get your license and gear at the Big Spruce RV Park or at Netarts Bay Garden RV Resort. For information regarding best crabbing and "how to," see ODFW's website.
Crab from a dock: Claudia Maciel with The Port of Garibaldi shared, "We have a public dock in the Port on Commercial Ave. (between the Tillamook Estuaries Partnership and Ocean Charters buildings) that is wheelchair accessible and guests are able to crab and fish off of that dock. We also have picnic tables out there!"
Events
The Annual "Fishing Day for Kids with Disabilities" event, held on the second Saturday of Sept. at the Whiskey Creek Hatchery, is the capstone event for the Tillamook Anglers Association (TAA). The TAA provides all the gear and bait to help hundreds of kids catch fish from the hatchery's raceways. The event includes a generous barbeque including chicken, burgers and hot dogs. "Kids get to catch four fish each; we clean them," says Jerry Dove, TAA founder and president. For more information, call 503-812-1572 or email jdovetillanglers@gmail.com.