Tillamook Coast Life Blog
Nature & Wildlife on the Tillamook Coast
Find your best nature spot
One of the best kept secrets of the Tillamook Coast is the number of nature and wildlife reserves to explore. From Manzanita to Neskowin, and all places in between, there are many protected areas to hike, stroll, watch birds, spot wildlife and learn about natural history.
Bayocean Spit
With the bay on one side, and a wide expansive beach on the other – connected by sandy trails lined with salal and sword fern – Bayocean Spit, located near the village of Cape Meares, is a hiking and birding hotspot, and home to beaver and deer.
Cape Meares National Wildlife Refuge
Just north of Oceanside (at the end of the Cape Meares Loop), lush with moss-draped trees, this refuge is a green haven for those wanting to recharge their spirits and view wildlife, too. The refuge is near Cape Meares Lighthouse, which offers its own brand of viewing and history.
 Three Arch Rocks National Wildlife Refuge
This untamed marine environment in Oceanside features big colonies of seabirds that hang out on offshore rocks. Peregrine falcons, common mures and other seabirds nest as whales and sea lions frolic in the waters below.
 Whalen Island
Clay Myers State Natural Area on Whalen Island just north of Pacific City offers a pristine 1.4-mile loop hike that overlooks a rich tidal wetland before passing through mixed woodlands, offering views of the estuary joining the ocean.
Near Bay City, this interpretive trail weaves wildlife, pioneer history and Native American history in one beautiful reserve. The trails – all ADA friendly – lead to a birdwatching station and a view of Tillamook Bay untouched by civilization.
Nestucca Bay National Wildlife Refuge
Welcome to Nestucca Bay National Wildlife Refuge. It offers more than 1,200 acres of refuge south of Pacific City and winter habitat for varieties of geese, including the rare Semidi Islands goose. Black-tailed deer and harbor seals also call this place home.
 Sand Lake Estuary
Oregon has 22 major estuaries, but only five are so untouched that they are classified as "natural." North of Pacific City, the 897-acre Sand Lake Estuary is the largest of these. A new state park is being developed at the adjoining land, Sitka Sedge State Natural Area.
Marine Reserves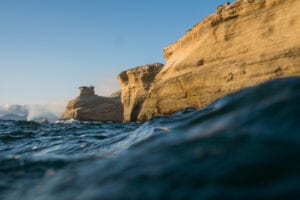 The Tillamook Coast is lucky enough to have two Marine Reserves. Cape Falcon (near Manzanita) has sand that provides the ideal habitat for crabs and other animals that like soft bottom habitats. Along the shore, you'll find rocky intertidal habitats to the north and south of Short Sand Beach, where you can spot mussels and sea anemones attached to the rocks.
Travel south to Pacific City, and you'll enjoy the beginning of Cascade Head Marine Reserve. Underwater here, the reserve includes the north segment of the Siletz Reef. This is an extensive rocky reef home to many species of groundfish such as canary rockfish, invertebrates such as giant plumose anemones, and seaweeds.
Marine Reserves are dedicated to conservation and scientific research, so please leave all sea life behind for others to enjoy.
Sitka Sedge State Natural Area
The main trail leading through the new park on the Three Capes drive is where you will find blooming foxglove, salal and wild rose – the beauty of each will leave you spellbound. So will the abundant bird life and Sitka Sedge grasses that grow along the wetland edges.
Whale Watching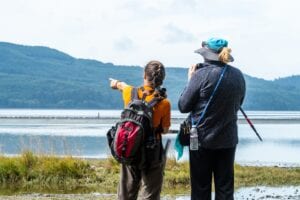 Contrary to popular belief, whale watching can be a year-round activity with gray whales the most commonly seen. Almost any location with an ocean view may offer whale sightings. You will have a better chance of spotting a whale in the morning. First scan the ocean for spouting and then zoom in more closely with binoculars. To get an even closer view, consider whale watching from a charter boat; Linda Sue and Garibaldi Charters are good options.