Tillamook Coast Life Blog
Living history: Oregon Coast Scenic Railroad
It was the late 1800s. Portland was rapidly growing.
Out on the coast, most of the land had been claimed. But suddenly, people in the small coastal villages noticed there was no way to get their products to the bigger cities.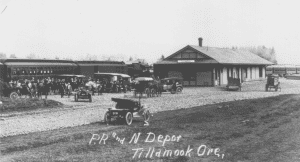 "The market was very undependable getting dairy to market," Historian Mark Beach said. "By the time the railroad comes to Tillamook; Garibaldi, Bay City, and Nehalem are the only real established towns at that time in 1906-07."
The first train reached Tillamook in November, 1911 via the Salmonberry River west from Portland, south from Mohler through Wheeler, Rockaway Beach and Garibaldi, to Tillamook. The construction of the railroad along the Tillamook Coast encouraged real estate and timber sales alike.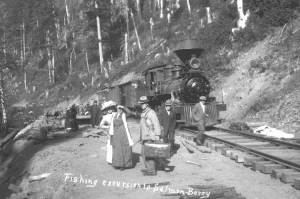 With a much easier trip to the area, people flocked to the beach for tourism. Beach's research details that for many years, trains would stop for locals hitching rides to fish up the Salmonberry. Commuter service from Wheeler to Tillamook proved immediately popular as travel by auto or horse required the long journey via Miami/Foley Road.
The rails also made it easier for products to be transported back and forth between the villages and the metropolitan markets.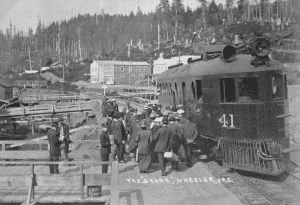 "Suddenly, you can cut the logs and bring them down and convert them into lumber and sent back to Portland," said Beach.
Through the 1920's, people in the area were making money, hand over fist. After the Great Depression, the railroad saw an increase in business in the 50s when lumber was profitable.
In 1996, the Port of Tillamook Bay took over the operations of the railroad. As a symbol of the times, Beach notes, the engine painted like a Holstein became a familiar site on the rail line.
Then, in 2003, Scott and Kim Wickert founded the Oregon Coast Scenic Railroad. They spent weekend runs from Garibaldi to Rockaway Beach and Wheeler, dodging freight trains while they conducted their historic steam train tours.
After 2007, Oregon Coast Scenic Railroad became the sole operator of 46 miles of the railroad, and continues to be to this day.
*Former Cornell University professor, Mark Beach, is a professional historian who resides in Manzanita. Beach's work is also on display at the Nehalem Valley Historical Society in Manzanita, or on his website: Neahkahnie Visions, neahkahnievisions.smugmug.com
Oregon Coast Scenic Railroad 402 American Ave, Garibaldi, OR 9711